Choosing Between Two Cars – How to Narrow Down Your Options
Posted by
Auto Loan Solutions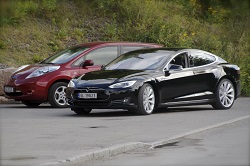 Congratulations! You have decided it's time to buy a new or used vehicle. Once you have decided on your budget and arranged your car loan, the hard part is over. Now you just have to choose the right vehicle for your needs. That seems straight forward enough, but what if you narrow your choices down as much as you can, and you still can't decide which car is the right one for you?
When choosing between two cars, you could flip a coin, or you could strategically consider the features and benefits of the frontrunners and make an educated decision based on facts.
Guess which approach we're going to recommend?
Know What You Need Versus What You Want
Before you ever start trying to decide on a specific vehicle make and model, you should have a list of things that are simply "must have" features. Bells and whistles can break and they cost a lot of money to fix. What you need is a reliable car or truck that just works for your lifestyle. If this is a family vehicle, you need enough seats for all members of the family. When you drive long distances to and from work, poor fuel economy is going to be a deal breaker. If you can't afford the insurance payment on a particular make and model, you're going to have to keep looking. A contractor who hauls tools and materials to a job site will need a vehicle that is capable of handling that kind of load. You can't let this decision be driven by emotion, it has to be based on your needs.
The overall cost of vehicle operation is going to be affected by a number of different factors. No matter what vehicle you eventually settle on, you always have to be able to afford that auto loan payment. That's especially true if you have qualified for a no credit or bad credit car loan. You can build or repair your credit over time, but only if you're able to keep up with the payments!
Just Google It
You're going to spend a lot of time on car lots seeing many different cars, but if you can make a short list from the comfort of your living room, why not? If you have narrowed your vehicle selections down to a selected list of car candidates, search for more information online. Professional review sites and articles are great, and you should definitely pay attention to what the experts have to say about your car. However, it's not quite the same as hearing from people just like you who actually own that vehicle and live with it day in and day out.
Try "Googling" around for unprompted customer feedback to get the straight goods from people in your shoes. For example, if you have a child in a car seat, try searching for "car model year car seat brand" to see what comes up. Any booster or car seats have to fit properly in the back seat, and the driver's seat needs to be adjustable to a comfortable position when those back seats are occupied. If it's virtually impossible to drive with a child seat in the car without cutting off your legs, someone has probably already made that complaint, very loudly and very often. Your decision could easily be made for you once you have "heard" from other actual owners of that vehicle.
Side-by-Side Comparisons
By this point, you should have a pretty good idea of which car is going to be the right one for you. However, there are a lot of options available. A car comparison site could help you put things in perspective. Note: This example is American so some of the costs won't be completely accurate, but it's still good information. When you're ready to seriously settle down and make the decision, it's time to get out and do some test drives. A car that looks good on paper will often let you know that it's not the right car for you the moment you sit in the driver's seat. Something about the way the seat belt rubs on your neck or the way you have to strain to adjust the temperature will make it clear. If the seller allows, take it on the highway to see how it feels accelerating. Try a few corners and a three-point turn or a few attempts at parallel parking in a tight space.
The test drive will be about more than how the car feels to drive, too. You can get a good sense how big the trunk is, for example, by reading the vehicle's spec sheet. But while that will give you the overall dimensions and volume, it won't tell you that the wheel well makes it impossible to fit the equipment for your favourite sport back there. Take your time, there is a lot of money on the line and while you won't be stuck with a car you hate for the rest of your life, you will have it for long enough to make you regret rushing the decision-making stage. If the vehicle doesn't feel comfortable, DO NOT BUY IT! We all have a pair of shoes or two that are sitting at the back of a closet because they're too hard to wear. A car that is not a good fit is a much more expensive mistake to make.
To recap: determine your needs, do a lot of online homework, read what the experts and actual owners have to say, and go for a lengthy test drive. If you're still stuck on choosing between two cars after all that, maybe flipping a coin isn't such a bad idea…
Do you know somebody struggling to choose between two or more cars? Please share this article with them to help make up their mind. Are you thinking you will never have to choose between two cars because your bad credit is keeping you from applying for a car loan? No credit and bad credit car loans are our specialty. Try our easy, online auto financing application form to get yourself behind the wheel of the car of your dreams.
Would you like more tips on car maintenance and ways to save money on your vehicle operation costs? Come join the discussion on our Facebook page. While you're there, share one of your own tips!