2 New Driving Laws in Ontario Coming 2016
Posted by
Auto Loan Solutions


2016 is just hours away and along with the new year (and your New Year's Resolutions), comes new road legislations and policies in Ontario. They're part of a series of national changes the Canadian government plan to make law by January 1st. The two policies of discussion is the winter tire discount in Ontario, which is already in effect, and the revision of one of the crosswalk laws (and fines) that take effect at 12 am tomorrow. You may have heard about these revisions over the last few weeks, but we're here to dish out the details on exactly what they entail and why they're significant.
Insurance Companies Now Owe You
Let's start with the winter tire discount. A lot of you are still rolling around in all-season/summer tires since we haven't had
much of winter – our first snowfall was Monday night. However, it pays to have winter tires ready, not only as a precaution for the possibility of additional snowfall, but also because of the tax incentive that you can enjoy with them. As you may already know, insurance companies in Ontario are now obliged to offer some type of discount to drivers who have winter tires installed on their cars.
This new law is the result of a decision made by the provincial government, benefiting those who take winter driving and safety seriously. The size of the discount is something you'll have to learn from your insurance company (and we know how "fun" that can be), but you can at least breathe a little easier this season by getting winter tires. That reigns true for both your safety and the name of savings.
What to Look for in Tires
With this information in mind, you should know what to look for if you decide to put winter tires on. They take a little detective work on your part, requiring you to find some info beforehand. However, this information is not at all hard to find.
Hunting for Tire Info
You can't pick up any old tire you see – it has to be the right fit for your vehicle. So pay attention to size. With that said, you don't have to get out a measuring tape to know what size of tires you need. There are a few ways to see their dimensions without having to strain your brain (or your eyes). Here's what to look for: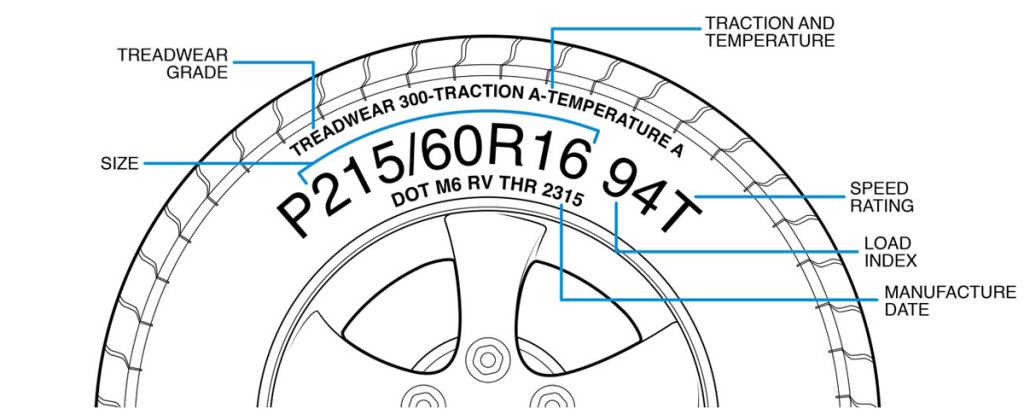 It may look like a lot to process here, but what you need to do with this info is very simple. Look at the diagram above, and then use it as a guide for what to look for on your own tires. Afterwards, write it down, (or just print it or save a pic, 21st century style!) so that you can tell the mechanics who'll install your tires. They'll handle the rest. This is also true if you decide to find a quote online. All you'll have to do is enter this information in the fields that appear on the screen. It's that simple.
No More Crossing the Line with Pedestrians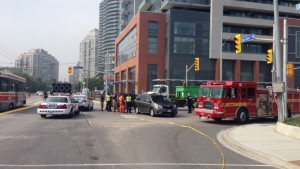 The second change in legislation that will come about, is the revamp of driving laws at pedestrian crossings and the fines for violating them. You are now required to wait until a pedestrian has reached the other side of the street at a school or pedestrian crossover. If you are caught disobeying this law, you will face a fine between $150 to $500.
The purpose of this law is to increase pedestrian safety, considering how many drivers turn onto a street or proceed through a crosswalk when an individual is still close to their vehicle (whether the person crossing is about to pass or has finished doing so).
These tough fines will hopefully compel drivers to comply with the law, so as to reduce the number of accidents that occur at crosswalks – a number that accounts for half of all fatal traffic accidents reported in the province. As mentioned earlier, this law will take effect on January 1st (remember this when you yell "Happy New Year!").
A Great Need for Nighttime Driving
Driving at night is significantly riskier than cruising during the day, making accidents more likely to occur in the evening, late night or early morning hours. Drivers are prone to making mistakes at these times, because they are more likely to be fatigued or unable to see clearly in the dark. Additionally, pedestrians often wear dark clothing at night (although they shouldn't), and they may literally blend in with the scenery. The combination of these factors can make pedestrian crossovers dangerous.
The new requirement on drivers to wait for pedestrians may not completely remove the dangers, but it can motivate a driver to pay more attention to their settings. Instead of assuming that a pedestrian is out of harm's way, this new law will make it necessary for drivers to watch closely and wait until the street is completely clear. Considering the high number of pedestrian accidents this year, the creation of this new crosswalk law is timely.
New Lows for a Better Road Ahead
Over the years, all three levels of government across Canada (municipal, provincial, and federal) have implemented laws to make our roads safer, and give drivers incentives to stay safe. And many of them were necessary. Take for example the tightening grip of distracted driving restrictions. If you're caught using a phone (or any mobile device) while driving or even at a traffic light, you'll face a heavy fine that could amount to $490 and three demerit points on your record.
Now, we have the pedestrian law which will make crossing the street safer. Regarding the winter tire discount, you have little to lose even if they seem costly. You will increase your safety if we get another bout of snow, and you can actually get something back from your insurance provider (hard to believe isn't it?). So look at these two revisions with optimism. As we ring in 2016, you can look forward to making the road less stressful for you and the people you share it with.