5 Top-Selling Cars in Canada That Are Cheap to Insure
Posted by
Auto Loan Solutions
Don't you wish that car insurance was just a figment of your imagination. It would be nice if one day, a Morpheus-like figure could offer you the blue or red pill and after taking the red pill, you'd see that insurance is all just a dream (if you don't get this reference, this is from The Matrix Trilogy). Unfortunately, it's something we all need for our cars. However, for those of you looking to buy a new car, there are many vehicles out there that are both trendy and affordable in terms of auto insurance. And they're all great options for drivers in all circumstances.
Not Set in Stone
Before we list the vehicles worth considering, it's important to remember that no two people will pay the same amount for auto insurance. Even if you purchase a car known as being cheap to insure, the quote you receive from a broker will be different from what someone else gets. It all depends on a combination of factors.
Your Age
Young drivers have it bad. Even the most responsible, skilled young drivers are labelled as "high-risk" because of the few kids out there who take unnecessary chances behind the wheel. And if you're a young man – the group most associated with risk-taking – then your insurance will be even higher. In fact, young men ages 16 – 24 usually pay the highest out of any group of drivers for auto insurance.
Your Record
Unfortunately, a less-than-stellar driving record could lead to an increase in your insurance quote. Having accidents and/or tickets on your record may prompt your insurer to raise your premium, and you will pay more for your car even if it's normally cheap to insure. It hurts. But many insurance companies are somewhat lenient (yes, we're actually saying that) for first-time collisions or traffic violations. For example, there's accident forgiveness for a first at-fault accident, and minor driving infractions that evoke no increase in your insurance rates.
Your Location
Finally, you can't overlook your location. Residents of some cities and some townships will pay more than others. This all has to do with factors such as population density and the rate of accidents in that particular area. Again, the factors mentioned above (your age and driving record) will also come into play, but you might pay slightly more for car insurance than a friend or family member in a neighbouring city or town.
Volkswagen Jetta
If you're a fan of good-old German engineering and low insurance quotes, then the Volkswagen Jetta is your ride. It's one of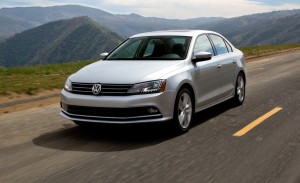 the least expensive cars in Canada to insure. This may surprise you considering how stylish Jettas really are. They're great compact cars, making them perfect for both suburban and urban driving, and they're loaded with a ton of fantastic features, including a turbocharged engine (don't speed with it though!), fuel economy and fancy interior. Additionally, it comes at a great price too – the starting price for the trendline model starts at $15,995 while the comfortline begins at a still reasonable price point of $22, 595.
Hyundai Accent
Some of the top-selling and fastest improving cars have been pumped out of South Korea in the last few years. Kia is definitely a manufacturer responsible for this renaissance. However, Hyundai is also at the forefront of this movement, building stylish, affordable vehicles. Not only are they economical in terms of price and fuel usage, they're great for insurance rates. Known for being a dependable subcompact car, the Hyundai Accent is a low maintenance car that will be cheap to insure, provided you're not a high-risk driver (by means of age or your record), or live in an area known for high insurance rates.
Mazda 3
Mazda has always produced a fairly solid lineup of vehicles over the years. Although they haven't seen the success that
other brands have seen with vehicles such as light trucks, they continue to build a strong line of family cars such as the Mazda 6, and the Mazda 3 which is the compact car. The latter option (Mazda-3) is great if you're really bent on finding a car that's cheaper to insure. On top of that, the Mazda-3 is a great option for those who want a vehicle that's good on gas, sleek and fairly powerful too (it's got a modest 0 – 60 acceleration of 7.2 seconds).
Chevrolet Cruze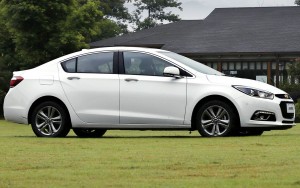 There are a lot of cars out there right now getting buzz, but few are receiving praises like the Chevy Cruze is. Since it's launch in 2008, the Cruze has become a favourite choice among many North American drivers, making it a top-seller both in the U.S. and Canada. It's also turned into one of the cheapest cars to insure, which is no doubt good news for you Chevy lovers out there. And the Cruze is a great vehicle overall. Both critics and consumers alike mainly have positive things to say about the car, including its design, upgrade tech features, and powertrain options. It's safe to say that there are few if any losses if you choose the Chevy Cruze.
Toyota Corolla
Still sitting at the top of the totem in terms of North American car sales, is the Toyota Corolla. It's great on gas, easy to
maintain, and as you guessed it, cheap to insure. And the main reason for this is the Corolla's safety. Despite the tragic brake failure on some Toyota vehicles (which led to the infamous 2009 – 2011 recalls), the Corolla has been recognized as a Top Safety Pick due to its high scores in terms of frontal and side impact protection. As a result, these advantages have made it a great vehicle for those looking to significantly cut the cost of car insurance.
Buy an Insurance Friendly Ride
Paying for car insurance isn't fun. It's something we have to do, because driving without it is illegal and punishable, but it's not something we want to do. With that said, you can make it easier to afford by choosing a car that's cheap to insure. The vehicles listed in this post are designed in a sleek fashion, perform well, and are equipped with great technology on the inside as well. Whether you're an average Joe on the road, a young driver or an individual with a few bumps on your record, you can get a vehicle that's cost-effective in terms of insurance rates if you choose wisely. After all, it's not the only monthly payment you'll have to make.