#ProTips for Safe Winter Driving
Posted by
Auto Loan Solutions
No matter how much driving you do in your daily life, and you may well do a lot, you have nothing on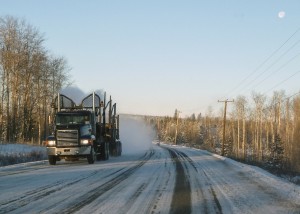 professional truck drivers. That's why, when you're looking for advice on safe winter driving, it's a good idea to go with the suggestions of these seasoned pros. After all, details like how you qualified for your auto financing are irrelevant, whether your credit history is good, bad or non-existent, because none of that matters if your vehicle is out of service after a winter accident. When you're on the road this year and the weather is rough, think about these tips. It could mean the difference between getting to your destination safely, and not getting there at all.
Stay Informed
Winter weather conditions in Southern Ontario, especially along Highway 401 outside of Toronto, can change in the blink of an eye. Reports of dangerous driving and white-out conditions are frequent and sometimes deadly. While you may enjoy the peace and quiet of a long drive on the highway, it's not safe to be out of touch with the weather reports when snow squalls can seemingly come out of nowhere. Truckers have their CB radios to keep in contact with people who can alert them to changing conditions ahead. You might not have that luxury, but you can find out the traffic and weather stations along your route to stay abreast of anything up ahead you need to know about. While we would never advocate using your cell phone while driving, when weather conditions are bad you should have a hands-free option so you can keep in touch with the world around you.
Plan Your Route AND Plan Your Alternate Route
When you set out for a long drive, you should always have planned route available. It's fine to use your GPS for prompts while you drive, but these units are not perfect. A printout of the directions from Google Maps is good to have as a back-up, and a good old-fashioned map of the areas you drive in frequently is an even better idea. Truckers have very sophisticated GPS systems, but they always have a plan for an alternate route in case they need to divert course. You should also have a back-up for your planned route in the event that bad weather or a bad accident makes your trip impossible. You don't need to have multiple sets of step-by-step instructions, just a general sense of what roads run parallel to the one you are travelling on for your trip. Keep in mind the location of rest stops and gas stations along the way, and before you start weaving your way around unfamiliar roads, make sure you have a full tank of gas.
Have the Right Equipment
The importance of a well-equipped vehicle just can't be overstated. Truckers carry a huge stash of equipment for use in case of an emergency. Their kit includes stuff like tire chains and Cam Lock T-handles. You probably don't need to have an emergency kit that rivals those of people who make their living on the road, but you should always be prepared for road conditions to quickly change for the worse. First of all, the value of winter tires has been well-documented, this is a very important part of staying safe on the roads, especially on long trips. Other things that you shouldn't leave home without when faced with winter driving conditions include:
Extra windshield wiper fluid;
A shovel and kitty litter or sand for traction if you get stuck;
A car charger for your cell phone;
Jumper cables;
A crank flashlight, better still if it has a built-in radio so you can leave the car off to conserve gas;
A blanket and candle to keep the car warm if you're going to be sitting somewhere for a while;
Water and non-perishable snacks; and finally,
Before heading out, ensure a full gas tank, adequately inflated tires, and a full windshield wiper fluid reservoir.
It may seem like this list is overkill, but we can assure you there will never be a time you will find yourself stranded at the side of the road thinking "Drat, I wish I didn't have all these safety supplies in the car!" However, if you're ill-equipped in an emergency, you will be very sorry you don't have some of these things on hand.
Relax!
We know, that's easy for us to say when we're not the ones white-knuckling down the highway in the middle of a winter storm. But here's the thing, when you're tense you panic, and when you panic you make bad decisions. Slow down your mind AND your vehicle to stay safe. Watch what the truckers are doing. If they are slowing down or pulling off the road because the road conditions are getting dangerous, trust their judgement! Consider pulling over somewhere warm and comfortable to wait out the worst of the adverse driving conditions. Once you acknowledge that you can't control the weather, you can only control your response to it, it becomes a lot easier to go with the flow. If you're not that far on your way, it may be worth turning around and going home, and attempting your trip another day. There are few errands or vacations in this lifetime that are worth risking your life.
Do you feel like all of this is a moot point because a checkered credit history is keeping you from applying for a car loan? We can help. Auto Loan Solutions works with people from all walks of life to help them get the auto financing they need to get behind the wheel. You just have to promise us that you'll use the information in this post to operate the car we'll help you purchase safely. If you know someone who could use a refresher on driving safely in the winter, please share this post with them! While you're at it, join the active online community on our Facebook page!