Hate Winter? These 5 Destinations Will Change Your Mind
Posted by
Auto Loan Solutions
What comes to mind when someone mentions winter driving? Hypnotically slow treks along fog-laden highways? Heart-fluttering attempts to steer yourself out of a skid? Or hapless moments of shivering due to a broken heater? If all you can think of are the road conditions and bad weather, you haven't seen the other side of winter.
As we plunge deeper into the cold months, you'll need something to lift the blues, and one remedy is gazing at the stunning sights you could see at some unique winter destinations. Realistically, you probably can't just embark on a winter adventure, so we're bringing the sights to you in this blog post. You'll hopefully see them in person someday.
Seward Highway, Alaska
If you want a picture of a landscape that you'd frame and hang on a wall, then you'll want to cruise along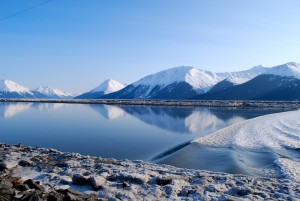 the Seward highway in Alaska. Stretching from the city of Seward onward to Anchorage, this route provides travellers with views of thick evergreen forests, glaciers and majestic snow-capped mountains, mirrored in rivers and lakes which they are set against.
Additionally, if you'd like to reel in a  20 lb (9kg) trout or witness Belugas leap out of the waters, then a trip along the Seward highway should be in the books for you. Life-long memories await you here.
Arches National Park, Utah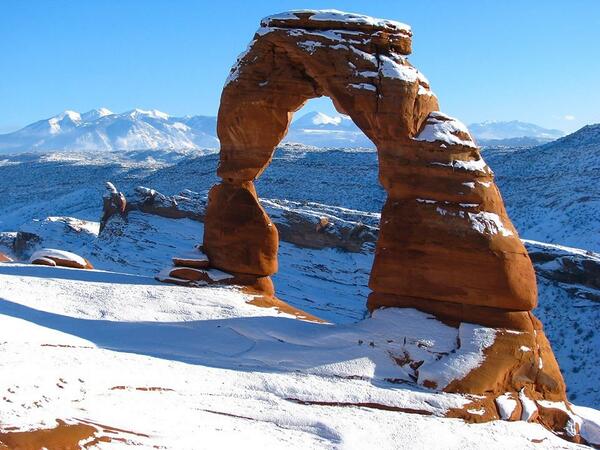 Journeying through a desert blanketed with snow would probably turn everything you think you know about deserts, upside down. But it's not unusual at Arches National Park in Utah. A drive through the park would reveal surreal scenes that you would probably see in a sci-fi movie. Loop-shaped rock formations of sandstone dot the hilly plains. On cloudless days, the sun intensifies the orange-brown soil and the layer of snow sitting on top of it, highlighting a juxtaposition that's seemingly alien yet breathtaking. It's odd, it's beautiful, and it's a sight that only exists here in the winter.
Rockies Rail Winter Wonderland
Some of you may remember the 1985 children's book, "The Polar Express" (and its 2004 film adaptation),
about a young boy who takes a train ride to the North Pole. Well, there's no train route going up there yet, but you can get a similar experience on the Rockies Rail Winter Wonderland trip.  It's a perfect trip if you don't like driving in wintery conditions.
From Vancouver to Calgary, you'll wind through thick forests and colossal mountains, spotting moose, deer and other wildlife along the way. Additionally, you can opt for a travel package which includes a ton of other winter activities, including dog sledding, skiing and skating.
Labrador (Courtesy of Nature Trek)
Admittedly, Labrador is subject to harsh and frigid winters. But assuming you dress warmly, the temperature won't be what you remember most. Labrador is filled with incredible scenery, including steep cliffs, towering mountain peaks, fjords and icebergs. You'll even get some facetime with an assortment of wildlife, including polar and black bears (from a distance of course!), birds, caribou, whales and seals.
All of this takes place aboard the Nature Trek Classic boat liner, which navigates along the coastline. However, the ultimate sight that winter in Labrador brings is celestial – the Northern Lights (scientifically known as Aurora Borealis). The shimmering, fluorescent streaks of green, red and purple will have you craning your neck, speechless.
Iceland (Almost the entire island)
So far we've spotlighted locales that are extraterrestrial, picturesque and even magical. But there are some
winter destinations on this Earth that are all of these things at once. Iceland is one of them. Roaming the landscapes of iceland is probably what it must feel like to walk on another planet. Geysers, volcanos, ice-coated mountains, hot springs, caverns, glaciers, waterfalls – just about any geological feature you can imagine exists in Iceland.
If you're a photographer, artist or just someone who's in tune with the Earth, Iceland will provide you with inspiring sights that are hard to find elsewhere. There's so much to see and discuss about Iceland, we could actually dedicate an entire post to the country (and their interesting names).
Warm Your Heart with These Stunning Winter Excursions
The daily drive through slush and snow probably doesn't brighten your day in any way. There's nothing scenic about grey skies and cars stuck in ditches? But that dull scenery isn't the face of winter. After all, summer weather can pack a punch too, with severe thunderstorms, hurricanes and flooding, but we still look forward to the sun and warmth.
Likewise, winter has its beauty as well. Just looking at the destinations listed above, you will no doubt see things you probably wouldn't see anywhere else, or at any other time besides winter. So whenever you feel down or uninspired by the cold and ice, come back to glance at these gorgeous landscapes which glisten and glow in the winter.