10 Celebrities and Their Favourite Cars
Posted by
Auto Loan Solutions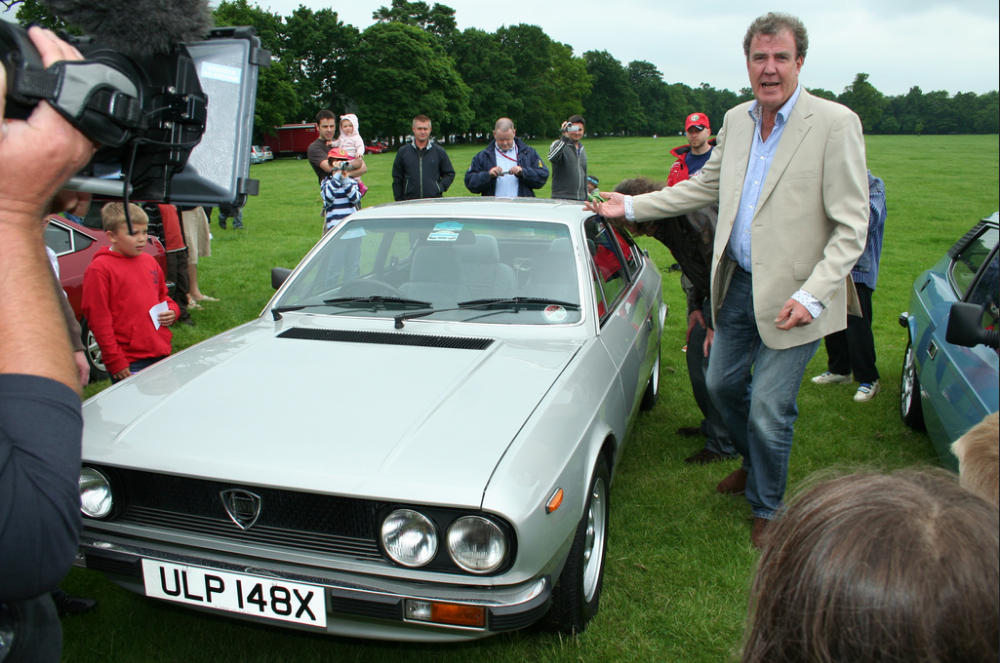 Whilst the life of a celebrity isn't always as glamorous as they would have us believe, certainly one of the best upsides to being part of the Hollywood elite is access to cars that most people could only dream of. From priceless vintage convertibles, to the latest Italian supercars, celebrities are spoiled for choice when it comes to choosing their favourite set of wheels. We had a look at ten celebrities who somehow managed to whittle it down to their single favourite car and why those vehicles hold such a special place in their hearts.
Jerry Seinfeld's Favourite Car
Perhaps the most famously car-obsessed famous person on our list is the star of everyone's favourite 90's sitcom, Jerry Seinfeld. Once he became a household name and started making more money than he knew what to do with, he decided to indulge himself in his greatest passion, and began amassing a car collection unmatched by any other. Topping out at 150 cars that he stores in a $1.4 million dollar garage complex in Manhattan, Seinfeld fell seriously in love with Porsches, particularly the models from the 1950s. Of his 46 Porsches in his $22 million dollar collection, a 1950s Porsche Spyder is Jerry's prized possession, which he can be seen driving around New York and occasionally on his new tv show Comedians in Cars Getting Coffee. In fact, this is the same model of car that tragic hero James Dean fatally crashed in speeding around the foothills of Los Angeles in the 50s as well. We're betting that Mr. Seinfeld will be taking things at a safer pace when he goes cruising around the gridlocked streets of Manhattan!
Justin Bieber's Car
Canada's very own pop king, Justin Bieber, is no stranger to exotic supercars. With over a dozen high-end vehicles in his ever expanding collection, Bieber tends to favour the latest European ultra cars from powerhouses such as Ferrari, Lamborghini and Porsche. Impossible to pass over as his favourite of his collection, however, is the instantly recognizable Fisker Karma that Justin received on his 18th birthday from the car company itself. Not one to be content with the standard run-of-the-mill paint job it came with, the Sorry singer had the vehicle completely chromed from headlights to tail pipe. The Fisker Karma is also an environmentally conscious plug-in hybrid, offering all the benefits of both a traditional engine and electric upgrades in one sleek package. Now that's a car fit for Canadian pop royalty!
Paris Hilton's Car
The 'it' girl of the early 2000s and the first person credited with being famous for being famous, hotel heiress Paris Hilton is no stranger to the finer things in life. The well known socialite loves all things pink, from her clothes and nails to her house and even pets! This love of the rosy colour extends all the way to her $250,000 Bentley Continental GT, which she had completely tricked out in all pink, including custom pink dashboard, paint job, and hand dyed pink leather seats. The gear stick is even dripping in rose pink Swarovski crystals! Not one to be satisfied with just pink everything that anyone could have, the seats of the car are also hand stitched with her signature to give it that Paris Hilton twist. As Ms. Hilton would say "That's hot".
Patrick Dempsey's Car 
Best known for his role on hit medical drama Grey's Anatomy as Derek "McDreamy" Shepherd, this actor has taken up the ever popular celebrity pastime of collecting one-of-a-kind vintage cars. Now worth a few million dollars, Dempsey's car collection includes classics such as a 1969 Mercedes-Benz 280SE, a 1972 Jaguar E-type, and even a 1950 Flying Cloud Airstream. Amongst all these timeless designs of yesteryear, however, one car stands out as the clear favourite and most prized possession. Dempsey's 1940s Jaguar XK120 racing car is one of the rarest collector's items in the world, with only a few thousand of his model ever being produced. Thankfully, unlike many other fine vehicle collectors, Dempsey is actually a professional racing driver in his spare time and believes that collected cars are meant to be driven, not just stored and looked at. Good news if you were hoping to catch a glimpse of this rarest of vintage cars!
Ralph Lauren's Car
A name synonymous with fashion, elegance, and class, Ralph Lauren is a man of singular taste and a clean aesthetic when it comes to his uber famous clothing line. Strange then, that his preference for understated elegance goes completely out the window when it comes to his favourite car! Lauren's favourite wheels belong to an outrageously orange McLaren F1 LM, by far the fastest car on our list with a top speed of 360 kph. It's so overpowered, in fact, that it requires a special permit to even be allowed to drive on normal roads! Such a beast of a machine certainly doesn't come cheap either, with the famous designed reportedly dropping over $10 million on securing his dream car.
Jay Leno's Car
Probably the most esoteric car on our list belongs to the ever jolly Jay Leno. The number one name in talk show hosts throughout the 90s and 2000s, Leno is still one of the largest media personalities on the scene. Since hosting his final The Tonight Show episode in 2014, the comedian has maintained an active stand up schedule with over 200 appearances made in 2017 alone. Like his fellow mega famous comedian Jerry Seinfeld, Leno has an affinity for collecting cars and his collection actually dwarves Seinfeld's at a staggering 286 vehicles! Of this immense collection, one of Leno's favourites and certainly the most unique is the 1909 Baker Electric. This tiny car is a tight squeeze for two people, and could be easily outrun by Usain Bolt going at top speed. However, because the car is over 100 years old and only a very small number of them still exist, it is possibly one of the most prized and valuable cars on this list.
Madonna's Car
The original Queen of Pop and singer of some of the most iconic tracks of the past three decades, Madonna has a reputation for being one hundred percent over the top one hundred percent of the time. Nowhere is this more apparent than her preferred choice of getting around town: a black $1.4 million dollar Maybach Landaulet. Once a stand alone brand and now a part of the Dailmer AG family, the Maybach is the ultra-luxury wing of Mercedes-Benz and was introduced to compete with the likes of Bugatti and Bentley. Infamous for their sky high price tags, Maybachs are fairly rare to spot and certainly stand out from a crowd with their distinctive lines and "old money" good looks. Naturally, Madonna has her driver take her all over town in her luxurious ride, and is often spotted frequenting her favourite pilates studio after being dropped off. We would expect nothing less of the Vogue legend.
Céline Dion's Car
From U.S.A.'s pop diva to Canada's, our next celebrity on the list is a household name not only in her home country but all over the world. Of course, we are referring to the inimitable Céline Dion! The My Heart Will Go On singer was born in Charlemagne, Québec, and as the namesake of her hometown would suggest, she has fairly noble tastes when it comes to her favourite car. Dion enjoys touring the countryside in her iconic Bill Allen-designed 1995 Rolls Royce Corniche, a two-door, front-engine, five-seater convertible. The French word corniche means a coastal road, which this car is absolutely perfect for cruising on with the rooftop down and the St. Laurent wind in your hair. We're sure Céline didn't have to Think Twice about this stunning car purchase!
Queen Elizabeth II's Car
The current Queen of the United Kingdom and the realms of the Commonwealth, Queen Elizabeth II is the longest-lived and longest-reigning British monarch and recently celebrated her Sapphire Jubilee. One would imagine that the Queen would be chauffeured everywhere, which is mostly true. However, when Her Majesty is enjoying her summer home in the country town of Balmoral, she is often seen driving around in her favourite vehicle: a Land Rover Defender. Ever a patron to the well known British brand, the Queen is actually the only person in the entire United Kingdom who is allowed to drive without a driver's license!  The love of Land Rovers runs in the family as well, as Prince Phillip favours his LR Freelander when not in limousines. The younger Royals have broken with traditional recently, as Harry, William, and Kate all prefer German-made Audis.
Brad Pitt's Car
The original 90s heartthrob, Brad Pitt has been a certified megastar for almost three decades. You would think that having that much fame for that much time would perhaps go to his head, but Brad has used his platform to advocate for a wide range of social and environmental issues. This philanthropic streak is displayed clearly in Pitt's vehicle of choice – the BMW Hydrogen 7. Unlike other hydrogen powered vehicles, which mix oxygen and hydrogen to create electricity to power the motor, the BMW actually burns hydrogen as if it were gasoline to produce energy. The car is also a hybrid, meaning it can run on traditional petrol at the flick of a switch, should Mr. Pitt be too far from a hydrogen refueling station. The BMW Hydrogen 7 was produced an extremely limited run in the mid 2000s as hydrogen fuel cell technology had yet to fully capture the imagination of the public. A trend setter and environmental activist at heart, Brad jumped at the opportunity to lower his impact on the Earth and can still be seen driving this eco-friendly car to this day.
As you can see, celebrities have a wide range of favourite cars, from the 100-year-old collector's item to the $10 million dollar Italian supercar. No matter the set of wheels, though, they are always going to stand out from the crowd. So keep your eyes out for any of these unmissable cars the next time you happen to be in Tinsel Town, you might catch a glimpse of your favourite celebrity!