10 Hacks from Dave Ramsey that'll Get You Out of the Red Asap
Posted by
Auto Loan Solutions
Who is Dave Ramsey? To many of you, he might come across as a mythic figure, especially if you haven't seen his face before. If someone were to ask you who he was, what would you say? He's not to be confused with Gordon Ramsey, the potty-mouthed British chef known for his T.V. show Hell's Kitchen. If you said he's a financial expert, however, you're right. He has been hailed as a guru. More specifically, he's an author, radio/T.V. personality, and motivational speaker. Aside from being a celebrity, it's worth diving into the tidbits of advice he offers on handling financial problems. In this post, we'll take a look at what he has to say about debt control, and how you can benefit from it.
He's Got the Cred
Let's be honest – it isn't easy to trust everyone's advice on the matter of money. You'll no doubt agree that the individual who's going to give you "words of wisdom", really has to know their stuff. With that said, how can you trust Dave Ramsey? Well, let's dig into his credentials.
A Biography of Mr. Ramsey
Dave was born in Antioch, Tennessee in 1960. He graduated from University of Tennessee with a degree in Finance and Real Estate. At the age of 26, he established a real estate portfolio valued at more than $4 million, by means of his brokerage firm, Ramsey Investments, Inc.
However, he didn't experience a never-ending streak of success. When the Tax Reform Act of 1986 came into fruition, the real estate business took a major hit. Ultimately, Dave ended up having to pay $1.2 million worth of short-term notes in 90 days, which forced him to file for bankruptcy.
He began to turn things around, by counselling couples at this church. After attending workshops on consumer finance problems, he began to create lessons and materials that could help others deal with their own money troubles. In 1992, he sold his first book, "Financial Peace: Restoring Financial Hope to You and Your Family", which was released in 1997. He has since published 10 other books (as well as six children's books), launched several companies/foundations, and has hosted both his self-titled radio and T.V. programs, "The Dave Ramsey Show." He currently boasts a net worth of $55 million.
Mr. Ramsey's story illustrates the unpredictable nature of life, and how anyone can rebound from financial hardships if they work hard. With that said, doesn't he seem like the perfect candidate to give out monetary advice to others?
Getting out of Debt the Dave Ramsey Way
So what is it that Dave has to say when it comes to debt control. To state it simply, he has a lot to speak on. And having to listen to it all may seem like a recipe for boredom. However, it's actually refreshing considering most experts say the same things.
1. Ignore your broke friends

We begin with this insight, because we live in a world diseased with "people-pleasing" behaviours. Your friends might think it's ridiculous to be frugal with money, by telling you things like "live a little" or, "you have to spend money to enjoy life." But these are the same individuals who struggle to pay their phone bills, mortgages and car loans. Although you don't have to treat them badly, Dave suggests that you ignore them when they speak this way.
2. Merge bank accounts
It's understandable to want privacy, and respect others' need for seclusion. But financial problems are best fought out of a dark corner. If you and your spouse have separate accounts, Mr. Ramsey says that merging them could be the first step to eliminating debt. By doing so, there's little room to hide the costly habits that one partner may keep secret. After all, you both can see the numbers.
3. Borrow more often (not money)
The concept of borrowing here has nothing to do with money (well, it kind of does). Dave isn't telling you to borrow more since that's what starts debt in the first place. Rather, he's talking about everyday items. For example, do you have a stack full of receipts from the bookstore? Borrow from the library instead. Do you use power tools or camping gear infrequently? Rent them! This list can go on and on. The idea here, is for you to rent what you don't need to use regularly, or what will save you money as opposed to buying them.
4. Use the envelope system for most expenses
The envelope system is a simple means of staying on top of bills. Essentially, you write the name of a bill and its average cost on the front of an envelope (ie. hydro bill). When you get paid, you withdraw the amount needed to cover that bill, and then put the cash in the envelop. It's a means of disciplining oneself, so there's no temptation to spend on non-essentials. Again, it's a technique that Dave endorses.
5. Start an emergency fund
You've probably heard about the importance of starting an emergency fund before. Recent disasters such as Hurricane Sandy, the 2013 – 2014 polar storm, and even the economic crisis of 2008 – 2009 have reminded us of the need for emergency money supplies. Dave recommends that all families start with $1,000, and then gradually increase as needed. What matters most is that you start. Whether you save $1,000 or $10,000, having "bailout" money if a disaster strikes can go a long way.
6. Second guess your expensive hobbies
Perhaps you want to start golfing, horseback riding or collecting art. That's great! But it's not a good idea if you're struggling with debt. Sure, these hobbies may fulfill the need to master a new school or appreciate the finer things. However, they'll only turn into a source of stress if they're draining your wallet. So Dave advises you multitalented hobbyists to think twice about expensive activities. Avoiding them (at least for a time) can keep you several steps ahead in your debt control efforts.
7. Downsize your lifestyle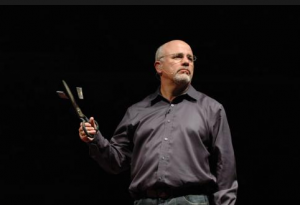 We're going to break into the obvious here. If you're always eating at fancy restaurants, investing in costly stocks, or maxing out your credit cards, then debt will accompany you for life. At some point you'll have to cut back, and the time is now. It's not easy, but one the thing Dave emphasizes, is the willingness to rid yourself of anything that leads to unnecessary expense.
8. Use tax refunds on debts
Isn't it lovely when those HST checks and tax refunds come in the mail? But here's a habit to break if you're in debt: using the cheques to splurge. It's true, maybe the cheque will buy you the shoes or phone you want, but what good are those things if you're going to bed with debt on your mind? And as Dave stresses, those items or toys we want are always there. We just have to remain patient.
9. Streamline your grocery shopping
Good food is a necessity, expensive food is a burden. Seriously, if your grocery bill makes your jaw drop at the checkout aisle, then you have some changes to make. It could mean putting some items back on the shelf. It could also mean shopping at a different grocery store altogether. Whatever it is, make the change. Although your health and the safety of your food is important, Dave points out that your taste buds shouldn't take precedence over the limits of your budget.
10. Start couponing
You know the show "Extreme Couponers"? If not, check out what it's about here. We're not telling you to take the couponing thing this far, but don't view it as an activity that's beneath you. Couples are often surprised to see how much they save by keeping a few coupons around. Try it out for yourself. Dave agrees that it is worth your time, and can cut on certain living expenses.
Take What You Will
Dave has many more tips to offer for those of you in debt. Of course, we can't mention all of them here, and we'd have to
include them in another post. He certainly has his critics and you yourself don't have to agree with everything he says, but he has some undeniable wisdom when it comes to keeping debt under control. And it makes sense that he has this insight, considering his track record with success and experiences with financial hardships. From the advice listed in this post, take what resonates most with you. You'll surely find something that helps your debt control.