Don't Be Dazzled by All the New Cars At This Year's Auto Show if You Can't Afford It
Posted by
Auto Loan Solutions
The annual Canadian International Auto Show is almost underway, scheduled for February 13th to the 22nd at Toronto's storied Metro Toronto Convention Centre. It is poised to attract, as it has every year, thousands among thousands of car enthusiasts in the GTA and beyond, always excited to peruse new concept cars and trucks, and get a glimpse of some of their favourite luxury vehicles. New cars from makers such as Ferrari and Lamborghini will likely be set up behind gated velvet ropes – nothing more than a dream for the average Torontonian – while more modestly priced luxury vehicles like BMW, Audi, or Mercedes remain within our immediate vision.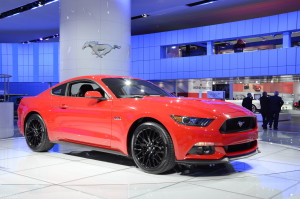 You may even be able to step inside the car and imagine what it were like if you owned a brand new Cadillac CTS, or the Mercedes C450 AMG 4Matic.
Look, But Don't Touch!
Then, of course, there's the new features that come out every year, as the automotive and hightech industries continue to intertwine, lead by pioneers like Tesla CEO Elon Musk. The North American International Auto Show in Detroit, which is underway this week in Motor City, has outlined several new innovations in auto-engineering, like Chevrolet's new electric-car concept, or a new gadget called Verizon Vehicle, a neat system built for those millions of older vehicles still on the streets that don't have built-in Internet capabilities like Bluetooth.
While these features are often appealing, it's always important to manage your luxury purchases if you're looking to buy a new car. It's also vital, for those of us with a poor credit score looking to attend the forthcoming Auto Show in Toronto, that we don't get too dazzled by all these neat new concept vehicles and gadgets. Also, be sure to avoid sports cars!
This, of course, is because if you're trying to build your credit, but definitely need a vehicle, finding one that's within your price range will go a long way towards establishing a better credit score. In the meanwhile, though, take solace in the fact that Auto Loan Solutions can help find the perfect vehicle that's right for you, one that will help improve your score and get you back into lenders' good graces.
For starters, make sure you're always paying more than just the minimum payment required on your credit card each month. If you have credit card debt, but are able to manage it swiftly and painlessly, lenders will see that you can be trusted to pay back a loan. Also, make sure you never miss a bill payment! This can be severely detrimental to your credit score, especially if you're a multiple offender. Set up an alarm in your iPhone maybe?
Another tip is to learn from your mistakes. If you're a fan of eating at Ruth's Chris Steakhouse every Friday, maybe it's time you've reconsidered your end-of-week hangout spot – also, eating too much red meat is unhealthy. If you do have to go that route though, there are a lot of really great Burger spots in the city that should totally satisfy your craving, and are also considerably less expensive than steaks.
There's Always Next Year
Keep doing that and being smart with your money, and who knows? Maybe at the Canadian International Auto Show 2017 you'll be looking at a brand new Range Rover, and decide to buy it right then and there on the spot. While we don't entirely encourage impulse buys, if you've got the money, and are going to pay your bills on time, then you deserve to spoil yourself!
Until then though, be aware that most sports cars, luxury cars, and more expensive cars in general, come alongside higher maintenance, upkeep, and significantly pricier insurance packages. These contribute heavily to the bills you'll receive every month, and make it that much more difficult to pay them on time. And the moment you're late paying your bills, there goes your chances at improving your credit score.
You should also remember that insurance companies consider several factors they take into account when setting your interest rate. In addition to your record, and how often you drive, they look at the kind of car you drive. Generally speaking, brand new cars are pricier to insure (and are also more expensive to upkeep), as opposed to used cars. All those sports cars you'll be taking a gander at during the Auto Show are also ridiculously pricier to insure. Basically anything with only two doors you can count out. Insurance companies also look at statistics on theft, how safe the car is, and the car's previous history as well.
To find out more info, you can visit the Insurance Bureau of Canada, or start a conversation with some of our active community members over on Facebook.