How Shopping for Cars Online is Safe & Makes Your Experience Convenient
Posted by
Auto Loan Solutions


Who would have thought, let's say 15 or 20 years ago, shopping for cars online would be the norm? It
may have sounded crazy if someone foretold about such a trend. But not it's reality. There's little need for car shoppers to spend days and weeks, snooping around a dealership, conducting tireless research. Thanks to websites, social media and smartphones, the process of looking for and buying a car is now simplified. However, there are some of you who may think the old way of buying cars is more reliable, and safer. But a little insight into the changing auto industry may help you see the virtues of buying a car online.
When it comes to shopping for cars online, what you see isn't necessarily what you'll get. There's a disconnect between the online and offline experience. If you are in your 20s or 30s (or late teens), you might roll your eyes at such statements, thinking this is one of those articles intended to bash technology. However, that's not the case. Websites and apps that can help you find the right car are revolutionary. The authors and developers of these resources deserve much praise for making car shopping convenient and easily accessible. But it's wise to have a balanced view of these tools.
Based on a Story that Probably Happened
Take the story of Jimmy (not a real story although it probably has occurred). It was the summer of 1988, and 16 year-old Jimmy wanted to buy his first car. He was tired of taking the school bus. So he mustered up the courage to ask his parents to help him buy a car, and surprisingly, they agreed! After a few days, Jimmy went to the dealership with his father to check out some cars. They searched left and right, with Jimmy ogling the sporty cars, his father, the practical ones. Jimmy finally came across one he felt his father wouldn't object to, and told him about it. A salesperson came by, and quickly took Jimmy's side, telling him how the car would be a great fit for him while winking at his dad. Jimmy's father of course, slowed things down and asked many questions about the car's performance and value – two things he learned as a former greasemonkey himself. Very quickly, Jimmy's father realized that particular car, although fast and sleek, wouldn't serve his son for too long. So they kept on looking.
How it's Done Today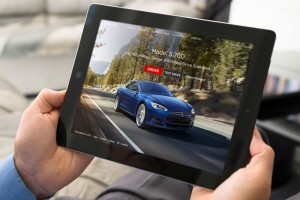 Fast forward to 2015, and it's crystal clear how people shop for cars today. Like thousands of other products, the search for the right vehicle often begins online. Jimmy's futuristic counterparts, which includes you and millions of other young adults, would probably think of parental advice as a secondary step. The first step would be a Google search or a visit to a website dedicated to automotive. The beauty of such sites are their detailed outlining of car specs and features. If the buyer chooses to walk into the dealership, they are already well informed. You might have done this the same way, approaching your parents for help on paying for the vehicle. It may have said, "Mom, dad, I want to buy this car and I was wondering if we could work something out." If you're a little older, you may have simply asked for their advice on whether you should seek a car loan, buy it upfront or lease it. Finally, you would walk into the dealership, armed with foreknowledge of what you wanted, and close the deal if you already decided this particular car was the one. The point here, is the traditional manner of completely relying on a salesperson, in store, has largely gone out of style.
Add to Cart?
There's an important question that arises out of shopping for cars online. Is it reliable? After all, some may reason that what you see isn't necessarily what you get. However, it's important to realize how protected you are. Unlike online marketplaces such as Kijiji or Craigslist, the best online shopping sites for cars must represent dealers who abide by the law.
There are numerous other issues that car shoppers wouldn't discover until they met the seller. In some cases, the buyer would drive off with their new car, and doesn't notice a problem until the weeks and months pass. But there are regulations put place, by governing bodies such as the Ontario Motor Vehicle Industry Council (OMVIC), that slap severe penalties on those who engage in such behaviour, and have spent years cracking down on those who fail to comply.
Penalties Associated with Fraudulent Car Sales
Liabilities for customer loss – The dealership would have to take responsibility for car that didn't match the buyer's expectation, due to negligence or outright trickery. They would have to buy back the vehicle, and compensate the buyer for their losses.
Suspension of licensing – An inquiry into serious allegations on behalf of a customer could lead to sales members losing their license.
Closure of facilities – A more severe penalty would be the closure of a facility. Over the years, many used dealerships have had to close down, because of fraudulent practices (a charge imposed by the government of Ontario).
Imprisonment – Although extreme, it's not unusual for a salesperson to face imprisonment if they've duped a customer. After all, deceiving a buyer into purchasing a car that's unsafe, damaged or subpar in performance is a criminal act.
As you can see from the points above, the government of Ontario has zero tolerance for fraudsters in the automotive industry. Their strict policies has led to a landscape where reputable dealerships are the ones that stand, and for the crooks who have yet to be caught, their time will run out, soon.
The Showroom at Your Fingertips
In addition to its safety (thanks to legal enforcement), shopping for cars online brings about an unparalleled sense of convenience. With all the distractions and stress of our modern world, it pays to lessen your load wherever possible. Looking for a vehicle is no doubt a time-consuming process. But when you shop online, you actually spent less time and energy.
Create a Shortcut
Comparisons made easy – In days past, you had to spend time snooping around a dealership to inspect the cars in which you had interest. Now? just simply hop online, and you'll find that most dealers have comparison features built into their websites already.
Save gas and unnecessary trips – Closely related to first point, is the ultimate convenience factor: not having to leave your house. You can pick car features, colours and even choose your auto financing options with a few clicks. Now that's power
Instant access to information – The beauty of the internet lies in its endless scope of information. No longer do we look to salespeople and other experts as the sole gatekeepers for knowledge. With that said, you can learn almost everything about a car;s performance, safety and practicality in minutes. Additionally, you've got testimonials, and online reviews detailing customer experiences with a certain dealership. Nothing's out of reach from you.
Log Off & Walk In
If you're about to buy a car that you haven't yet seen in person, there's no need to worry. Save yourself
from inconvenience and uncertainty. Like many other industries, the auto world is changing because of technology, and it's now become the norm to use the internet to purchase a vehicle. Remember, legal enforcement has made it a necessity for dealerships to engage in ethical practices, and their websites must reflect that. So there's no need to worry about being compromised online. If you have any questions or concerns, you can always speak to a dealer for assistance. They'll be more than happy to help you with the online shopping process, and ease you into it.
Are you satisfied with what our auto financing plans and options? If so, get in touch with us so we can help you find the right car!