Reaching the End of Car Ownership?: How Uber-like Services are Affecting the Car Industry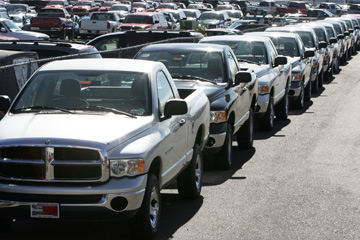 While ride- and car-sharing is rapidly growing in popularity, automotive distributors fear a decline in car sales. However, reports show that while there is an increase in automotive sharing, car ownership outlooks and car sales remain steady.
Automotive Sharing and its Impact on Sales
There have been two major concerns in the automotive industry in the last few years. The first is the impact that Millennials would have on car purchasing numbers as they outgrew Baby Boomers as the largest demographic. The second concern is the effect the rising popularity of ride sharing services would have on car sales.
The two were thought to be linked because it was assumed that Millennials, being predisposed to apathy towards the prospect of car ownership, would rather utilize car-sharing services such as Zipcar and ride-hailing services like Uber.
Car Sharing Does Not Negatively Impact Car Sales
The first concern is largely a myth, as the number of Millennials purchasing cars or being excited about purchasing a car is steadily growing as we described in a previous post.
The second concern is also proving to be mostly false thanks to a study conducted by Vital Findings, commissioned by Kelley Blue Book.
The study sought to understand the motivations behind ride- and car-sharing usage, as well as opinions and behaviours surrounding current and future transportation. In doing so, it found that ride- and car-sharing is not an imminent threat to new-car buying and vehicle ownership, despite the growing number of services being offered to consumers.
"While there are numerous benefits to ride-sharing and car-sharing, our data reveals that owning a car still reigns supreme, with reliability, safety and convenience all being major factors," the report found.
This is a useful finding as automakers have been investing a lot of money in car-sharing themselves in an effort to hedge their bets if car ownership ever drastically dropped.
As taken from an article on bloomberg.com:
In January, General Motors Co. invested $500 million in Lyft, the second-largest U.S. ride-hailing company. GM also created its own car-sharing business, Maven. Daimler AG, BMW AG and Ford Motor Co. have also created similar ventures.
Car-sharing would impact car-purchases worldwide. However, the impact is estimated to be slightly more than 1% of projected sales in 2021, hardly the dooming number that has been worrying some industry speculators a few years back.
Millennials' Desire to Purchase Cars
So if ride sharing services are not being used to replace car ownership, than what are they being used for? In short, they are used as a replacement or alternative to ferrying services such as taxis or rental car companies.
In fact, the survey found that Millennial consumers still value automotive ownership in much the same way their predecessors have in previous decades. More than three-quarters of people who use ride-sharing services said they intend to purchase or lease their own vehicle within the next 2 years, according to the survey of 1,900 U.S. residents. Of those surveyed, 80% completely or somewhat agreed that owning or leasing a vehicle provides a sense of freedom and independence, followed by 62% that completely or somewhat agreed that owning or leasing a vehicle gives you a sense of pride/success.
So although ride- and car-sharing appears to be a big threat to automotive sales, the data is indicating that no, it won't be a nail in the coffin. Instead, ride- and car-sharing is its own industry that can grow parallel to automotive sales rather than being a competitor.