7 Vehicles with Awesome Tow Capacity that Aren't Trucks
Posted by
Auto Loan Solutions
When you think of hauling heavy objects on the road, you most likely picture a pickup truck pulling a trailer of some sort. And it makes sense – they are ideal vehicles for the job. They're built with plenty of torque, making them perfect vehicles when you've got to pull big loads behind. But not everyone is in the position to get a truck. That may be the case for you. Fortunately, there are plenty of other car types out there that aren't trucks yet have a great tow capacity. If buying a truck is not an option but you need to haul extra weight, the cars mentioned in this post may be among the alternatives you've always sought.
1. 2015 Volkswagen Tiguan
Let's say you like to head up north with your off-roading vehicle, but you don't have a truck to haul it. The 2015 Volkswagen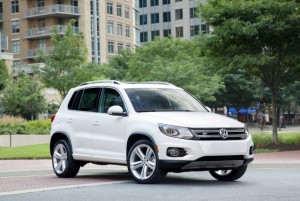 Tiguan will come to your rescue. Although it's not the most powerful vehicle for pulling, this compact crossover boasts a tow rating of 2,200 lbs making it a practical option if you're looking to haul something like a motorbike or a snowmobile (now that winter is just a few months away). It sports a 2.0 litre turbocharged four-cylinder engine, that delivers 200 horsepower and 207 lb-ft of torque, without sacrificing its fuel efficiency or acceleration. How we see it, the Tiguan is winner.
2. 2015 Dodge Journey
Maybe you can't pick up (excuse the pun) a Dodge Ram, but that's not the end of the world. You can pick up it's SUV counterpart – the Dodge Journey. Part crossover, part minivan, the Journey contains the revered Pentastar V-6 engine (optional) with a 3.6 litre unit, delivering a solid 283 horsepower and 260 lb-ft of torque. The power of the engine allows for a tow of up to 2,500 lbs, making it one of the best minivans when it comes to hauling heavy objects. The Journey may look like your standard seven seater and not much more. But don't be fooled – it packs some serious power!
3. 2015 Audi Q5
Much like the Dodge Journey, the Audi Q5 is surprisingly efficient when it comes towing. But the Q5 is a shocker. It has an
incredible tow capacity of 4,400 lbs when equipped with the available 3.0 supercharged V6 engine, which puts out 272 horsepower and 295 lb-ft of torque. And this is just an entry-level SUV! The Q5 is perfect for carrying off-road vehicles, trailers and other heavy objects across long distances. Additionally, it's a great vehicle in terms of design and comfort, if you're into that sort of thing (which you most likely are). You really can't go wrong with the Audi Q5.
4. 2015 Volvo S60
Volvo's have traditionally held a reputation for being among the safest vehicles on the road. But have they ever had a car known for being among the best tow vehicles (that aren't trucks)? They certainly do. The Volvo S60, which is equipped with a turbocharged 3.0 litre V6 engine, packs a 300 horsepower performance as well as 325 lb-ft of torque. The payoff? The S60 can pull up to 3,300 lbs of metal (or whatever material it is you need to haul), which is pretty impressive for a premium sedan. If you're looking for a vehicle that's both sleek and powerful, the Volvo S60 is your ride.
5. 2015 BMW 5 Series GT
Volvo isn't the only auto maker cranking out well-designed powerhorses. BMW is doing it too. Their 5-Series GT is an
excellent example of a car that has the hauling ability of a truck. If you chose to buy this vehicle, you'd have a twin-turbo V8 engine under the hood, with your choice of it being 300-horsepower or 445-horsepower. That translates to a tow capacity of 4,360 lbs, which puts in the same category as the Porsche Panamera when it comes to pulling power. The 5-Series GT is a fantastic example of a vehicle that offers luxury and performance power in one package. If your car is going to do some heavy lifting, it might as well look good while doing so.
6. 2015 Chevrolet Traverse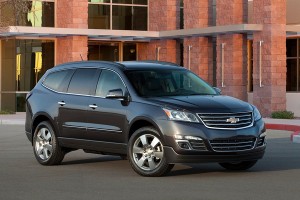 If you want a vehicle that at least somewhat resembles a truck, then consider the Chevy Traverse. It's a big SUV, giving the impression that it has the power of a truck. And if you're carrying a lot of people because you carpool or just have a large family, the Traverse is a great option – it seats up to eight people. Its V6 3.6-litre engine produces 288 horsepower and 270 lb-ft torque. But the most important thing to remember is the 5,200 lbs that Traverse can pull. That's a lot of weight. If you're ever headed out on a trip with family and plan to do some serious outdoor sporting (i.e. canoe, motorsport), the Traverse is your friend.
7. 2015 Subaru Legacy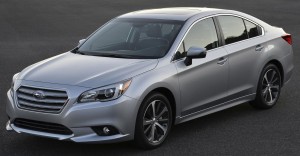 You might not need a vehicle that can pull mountains. Perhaps you're looking for a decent-sized car that can do some hauling when necessary. If that describes you, the Subaru Legacy is ideal. It's a mid-size sedan with an all-wheel drive capability. It sports a 3.6-litre, six-cylinder engine. That translates to a 256 horsepower and 247 lb-ft of torque, giving room to a tow capacity of 2,700 lbs. It's definitely more modest than the other vehicles mentioned here, but it does the job if you're carrying lighter loads. On top of that, it's great if you're looking for a vehicle that's sporty and urban.
Small Cars, Big Pulls
Don't feel downhearted if you can't buy a truck for your hauling needs. There are plenty of cars available to you that offer a ton of pulling power, and come without the expense (and occasional hassle) of owning a truck. Granted, they may not have the same capabilities, but they can get the job done. Besides, if you need a vehicle that can pull so much weight, it's most likely a necessity that you can't escape. That would be the case if you owned a construction business, for example. But if your circumstances aren't so much of an issue of earning money or completing certain jobs, then a car with a high tow capacity might do the trick.