Looking to Save Money on Your Car? Find A Mechanic You Can Trust
Posted by
Auto Loan Solutions
As a car owner, taking your vehicle in for repairs is inevitable (though there are some repairs you can do yourself to save you money), not to mention oil changes, tune-ups, and other reasons to make your routine visit to your local mechanic.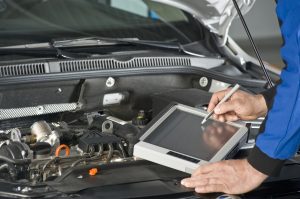 But if your vehicle is prone to breaking down – hence a lot more visits to said mechanic – it makes a major difference when the person repairing your vehicle is someone you trust, and have complete faith in. It also helps to know a bit about your vehicle, and about its history, so that you aren't taken advantage of.
Constantly putting money into your vehicle – when its already depreciating in value by the kilometre – is quite the stressful endeavour, not to mention a costly one. Needless to say, if you're interested in purchasing a new vehicle, or taking out a mortgage on a home, finishing paying off your credit card debts, or saving extra money, putting all that cash into a vehicle sometimes simply isn't worth it.
That's why it significantly helps when you have a mechanic on your side, who will give you an honest and frank approach to what your vehicle needs, and what your best options are considering your personal and financial situation. At this point, you're likely asking yourself…
How Can I Find A Mechanic That I Trust?
Good question. There are several tips that can help point you in the right direction, which will require attention to detail, thoroughness, and plenty of research on your part. Obviously, every mechanic on the market is trying to make a buck, but there's those who make it honestly and ethically, and those who'll do whatever they can to deplete your wallet. The real mechanics are the ones who'll quote you with fair prices, and work on your vehicle with care and compassion, in a bid to ensure that it's fixed and doesn't require constant repairs. And once you find him/her, in addition to saving you money, it'll also provide you with peace of mind.
1. Ask Your Friends/Social Media
This is where your years of building your social network will finally pay off. Reach out to your friends on Facebook, Twitter and Instagram, and ask them to share with you their experiences with mechanics. Make a list of those that are spoken highly of, and see if any of them are located nearby. You should also utilize your professional network. If any of your friends are car dealers or work in the automotive industry, don't be shy, and ask for their advice!
2. Google It.
Thanks to the internet, consumers can write reviews about practically everything these days, and you can best believe they'll be reviews about the mechanics you're reviewing as well. Check out Yelp, Google, or the mechanic's Facebook page (if he/she has one), and see what people are saying about them, how fair their prices are, how they treat their customers, etc. Of course, one negative review doesn't mean you should completely close the book on a mechanic, but simply ensure that you do your due diligence. This will save you a lot of time, and effort, once you start physically hitting up auto shops.
3. Do Your Research
Knowing about your car's history, what kind of repairs it likely needs, and what potential problems your vehicle has is very useful when you're looking for a mechanic. Obviously you're not an expert, but if you're well-versed in auto-shop talk, at least you'll be able to know if the mechanic is trying to scam you, or if he/she is the real deal. You can never do too much research, and this way you'll also earn the respect of the mechanic. Another thing you should be looking for is how long the mechanic you're looking at has been in business; the longer, the more reputable your mechanic likely is.
4. Find a Mechanic Before You Actually Need One
This is an oft forgotten, but very rewarding piece of advise. If you wait till your car needs a repair to find a mechanic, your options will be very limited, as you'll be wanting to fix your car as soon as possible so you can continue using it as a means of transportation. This will limit the amount of research you can do, and the amount of mechanics you can consider. However, if you locate a mechanic you can trust well before your vehicle needs a repair, and create a relationship with said mechanic, he/she will be more susceptible to giving you a better deal and being entirely honest with you when your car needs a more expensive, major repair. Believe us, finding someone you can trust before you need them will save you a lot of headache.
5. You Can Never Get Enough Estimates
Finding a good mechanic is a lot like dating. Chances are you're not going to find your soulmate on your very first date – it requires a few months, or even years, of playing the field, where you get to know yourself and what you want from your potential partner. Same goes with a mechanic. Chances are, you're not going to find the one you trust or have the best rapport with off the bat. Furthermore, if your vehicle requires a repair now, take it to as many mechanics as possible and compare estimates. Don't go for the least expensive option, but with the mechanic that's presented a viable plan that will fix up your vehicle where you won't have to bring it in repeatedly. And, just like dating, don't settle!
Note: make sure you compare part prices, work guarantees, and the friendliness of the staff! See if they're willing to answer your questions, if they have several solutions they're willing to offer, etc.
Finding a mechanic you trust will save you money in the long run, and it always works to have someone on your side who can provide you fair and trustworthy advice about your vehicle, and if it's time to finally trade it in and buy a new one. If you're contemplating the latter, then you've arrived at the right place by visiting Auto Loan Solutions, Ontario's largest supplier of bad credit car loans, and with access to over 5,000 vehicles across Ontario. Our priority is not only to find you a vehicle that's right for you, but to find you one that helps re-establish your credit if you've found it in poor standing. Apply today.