At Auto Loan Solutions, We're More Than Just Your Auto Loan Provider
Posted by
Auto Loan Solutions
At Auto Loan Solutions, Ontario's largest auto loan company, our priority is to put you on the path towards reestablishing your credit by providing you with the best possible auto loan affordable to you, even if you have poor credit. But contrary to popular belief, this process is not as cut-and-dry as it seems. In fact, with many of our customers, we often begin establishing relationships years before they even consider taking a loan with us. This is not merely a way of thinking for us; it's a way of life.
"Take Care of Your Customers and Your Customers will Take Care of You"
Since 1959, we at the Humberview Group have followed this philosophy to the letter, providing each and every one of our customers with superior customer service, attention to detail, and a passion for recognizing their dreams, and bringing them to fruition. Our goal isn't to just help you get a car loan and establish your credit score; it's to build long-term relationships with each and every one of our clients.
As part of the Humberview Group, a network of 26 franchised car dealerships with a collective inventory of over 5,000 used/new cars and trucks, Auto Loan Solutions truly does have access to all of your vehicle-buying needs, from maintenance to service. But we're also so much more.
For example, Auto Loan Solutions holds a weekly meeting every Monday where our staff members discuss the week's events and what we can do to better serve our customers. This is where we share our "Good News Stories," a way to boost morale amongst our employees, but to also reaffirm that those who do choose to obtain a loan through us are more than just customers: they're part of the Auto Loan Solutions family.
Our Commitment to You is Unparalleled
This week, one of our sales associates regaled us with a story of a customer who was a new immigrant to Canada, and as such, had no credit history. In fact, he didn't even have a social insurance number (SIN). Our associate encouraged him to build credit by applying for credit cards, reminding him to always pay his bills on time. Months passed, but our associate continued to maintain a relationship with the customer, until he enthusiastically told her that he had finally built credit in the country – and established a favorable rating at that. The customer was grateful and appreciative for her assistance in his building credit, and was proud to apply for his first Canadian auto loan through our team at Auto Loan Solutions.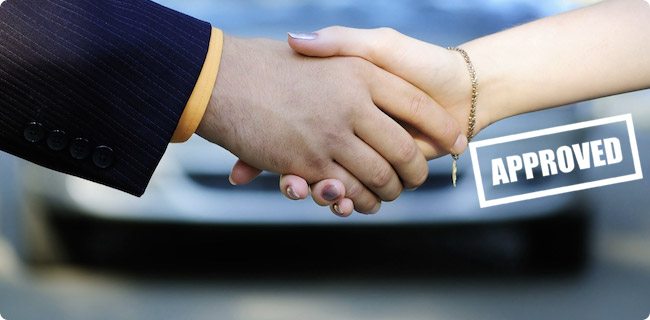 His story speaks volumes about our mantra here at Auto Loan Solutions, and of our commitment to you, the customer.
In addition to taking care of our customers, we also take pride in our community. Every year, Auto Loan Solutions donates funds to several charities and non-profit initiatives like the Scott Mission, in a bid to improve the quality of life for Ontario's 13.6 million residents. And while we don't do it for the glory, receiving letters like this certainly does make it all worthwhile: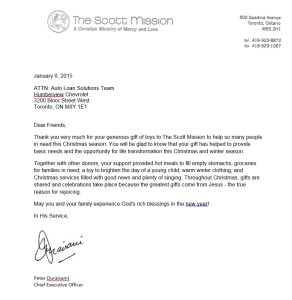 You should also know that there are several advantages to working with us at Auto Loan Solutions, which separate us from other auto loan specialists and car dealers in the province:
We have a seriously big team, with 26 dealerships across Ontario. Our trained specialists will spend as much time as necessary to ensure that you find the car that's perfect for your needs.
Poor credit? No credit? Bankrupt? You can still get pre-approved in no time. Regardless of your credit situation, we will find a way to secure automotive financing for you. With over 50 years experience, our commitment to putting customers first has set us apart in this industry, and shall continue to do so.
Your personal data is entirely safe with us – we do not rent, sell or otherwise share your personal information with third parties. We value your privacy and protect it with secure, SSL encryption on our online application form.
Auto Loan Solutions is so much more than just an automotive finance company. We're the first stop on your journey to safe, reliable transportation and improved financial health. It's more than our business; it's our passion.
Have bad credit, experienced bankruptcy or filed for a consumer proposal? You can still get pre-approved for the vehicle that's right for you within minutes. Don't believe us? Check out our Facebook page! It's full of customer testimonials, financial tips, and more.