Victory Lap: How to Make the Most of a Test Drive
Posted by
Auto Loan Solutions
A long time ago in a world far, far gone, there was a generation of drivers who took the time to truly investigate the car(s)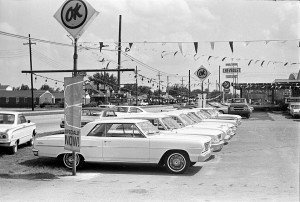 they were planning to buy and drive. There was no rush, and their patience paid off. But as time went on, and the pace of life accelerated, and the instant gratification mindset seeped into the minds of the people, they began to spend less time choosing cars. For example, the internet made auto shopping so quick and easy that aspiring car owners started taking shortcuts. That would lead to an era where many people forgot the virtues of spending quality time during the test drive phase of the car buying process. But it is not a lost art.
Put Your Mind in the Right Gear
The first part of getting the test drive right involves setting it up. Many drivers make blunders during this stage, and it can put them on a path to hassles down the road. So it's important for you to lay the groundwork correctly.
Don't settle after the first ride
Let's say you're going to test drive a luxury ride or sports car. You've heard good things about it, and have high hopes based on what you've seen from it. But after a spin on the highway and a few streets, you feel underwhelmed. It's not as smooth as you thought it would be. It doesn't have the best handling. And space is certainly going to be a problem. Even if your heart was set on such a vehicle, don't hesitate to move on and go back to the "drawing board". Research other cars – perhaps of a similar car type – and read up on all its features, whether they are for safety, performance or for the improvement of fuel efficiency. Your first choice doesn't have to be the last.
Stay open to suggestions
Closely related to the previous point is the idea of being open. But it means more than just accepting your own disappointment and moving on – it also means considering what others have to say before you even test drive a car. For example, you might tell your friends or family members that you want to buy a Toyota Corolla, but they may recommend a Honda Accord for various reasons. Initially, the Accord won't draw you in as much, but if you're willing to see the benefits from the perspectives of your loved ones, you could warm up to idea of trying it out. And after a test drive of the Accord, it could appeal even more. With that said, don't ignore the heart just for the sake of an open mind.
Hit the Road Jack
It's one thing to have the right mindset going in; it's another thing knowing how to test drive a car. It's by no means a science. However, there is a way to conduct a test drive, and learning how to do so means walking away with more confidence about the choices you'll eventually make.
You gotta feel it
Although we'd never tell you to break any laws, you should push the car to some degree. After all, it's called a test drive for a reason. Don't be shy to test out the acceleration and braking at certain intervals. Changing speeds will give you a sense of how smoothly the car runs in different conditions. The same goes for handling and turning. The response given by the vehicle when tested will give you a clearer picture of what it will do for you in the short and long run.
Ask a lot of questions
We live in a society where people are afraid of asking questions. Whether it's the fear of looking "stupid" or irritating others, there's a tendency these days to fear asking questions, even though we have burning urge to find the answers. Don't be this way when test driving a car. If you're concerned or unsure about the condition or particular feature in the vehicle, ask – the only consequence is learning the truth about it.
Do some mental note-taking
Whether you're aware of it or not, your brain is constantly taking notes. That's why you laugh at a joke, think of a certain food, or remember an errand in the last minute when it's name is mentioned. It's important that you do this consciously during a test drive. You want to keep your eyes, ears (and even your nose) open for observations about the car you're driving. You may notice good and/or bad traits that will either persuade or dissuade you from buying that particular car. Mental note-taking is even more important if you're test driving several cars, because you'll have an easier time weighing out the differences between the vehicles you have driven.
The Setup
Modern life is forever "time-sensitive". For that very reason, you don't want to waste time by going to a dealership, waiting for a salesperson to approach you, and then begging them to book you for a test drive. Scheduling in advance is your best friend.
Getting started
Search for dealers in your area
Call ahead (leaving follow-up emails is fine too)
Make arrangements to test drive your vehicle of interest
Alert salesperson of possible rescheduling (if your schedule is busy/constantly changing)
Arrive on time for appointment
The Payoff
The manner in which we shop for cars has changed, but the benefits of taking time for a test drive have not. You do yourself a favour when you try out your dream car beforehand. In fact, it's safe to say that you do many favours for yourself.
The benefits of a test drive
You get a feel for it before buying
You get acquainted with its features and performance
You leave yourself open to other options
You can find potential problems before buying the car
You don't have to spend a dime!
Don't Fail to Take a Test Drive
Going for a test drive, or even reading up on how to test drive a car might seem like old-school advice. After all, the internet has made car shopping so simple. There are online reviews, social media and word-of-mouth to clue you in on a car's reliability. But your experience with a vehicle is far more important than the feedback of others – the production line of a critically-acclaimed car make/model can spawn a few faulty units, and you could be the one to inherit it.  Or as mentioned earlier, you could pick up a used car that was abused by its previous owner, which would give you problems even though other owners of this car had no troubles at all. So the lesson here is to take the test drive seriously. Learn how to research, arrange and execute a trial run properly so that you find a set of wheels that makes you proud.