Why We'll Soon Buy Cars Online Instead of the Showroom
Posted by
Auto Loan Solutions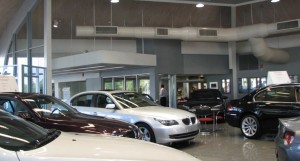 What will car dealerships look like in the next 10, 15 years? A lot smaller – that's for sure. The "future" of the auto world, which is already knocking on our doors, will revolve more around a glossy computer screen, rather than a large car lot. You'll spend more time clicking a mouse rather than chatting with a salesperson. And yes, that leaves room for some disadvantages, but the upsides to this digital shift are impossible to pass up. That is why it's a future worth embracing. In the years to come, we'll buy cars online, turning the shopping process of buying vehicles into an experience you'll appreciate. It'll be as if you travelled to a Minority Report-like future.
The Numbers Have Spoken
Some of you may believe that only young folks will embrace this trend. Those in their late teens, twenties and early thirties –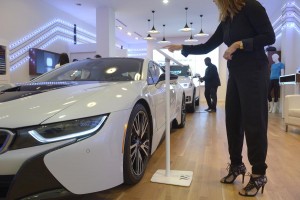 the millennials – probably come to mind. However, there are numbers to prove that the overall population is ready to adapt to the shift. In fact, they're waiting for it. One survey conducted by Accenture revealed that as many as 75 percent of drivers would consider a purely digital car shopping process.
Things get interesting when it comes to those visiting dealerships now. Up to 53% of drivers said they would access an interactive touch display that gives info about the cars in the showroom. What these numbers show is a growing demand for a digital experience. Whether it means never seeing a dealership or being in a showroom with colourful displays, we can see that customers want more interaction with technology when choosing their vehicles. That's why the trend of buying cars online will only skyrocket.
Evidence of the Shift
Earlier on, we mentioned how the future is knocking on our door. That's because it's happening right now. In fact, there are several car brands who run "bit-sized" showrooms, that look more like those little high-end fashion boutiques you'd see on a city street. Basically, you have a car or two – in some cases, just the chassis – and a touch-screen display plastered on a wall or pillar somewhere. As a decoration, you'll probably see some beautiful photography of cars sold by that manufacturer. You may have even visited some of these facilities before.
Tesla
It's worth mentioning the genius of Elon Musk first since Tesla is now synonymous with the digital car experience. If you've ever walked into a Tesla store, you know what it's like. Brick panel-flooring, portraits of Tesla sedans on highways, and displays of coloured trims and touch screens to build your own car. In the middle of it all, is one Tesla car. You might see the chassis of another if you're lucky.
Audi
Audi is one of the brands in recent years to adopt this futuristic look. Venturing out to the new Audi store in London, for example, will bring you into a room that's nothing more than a room with a desk (and tablet), a wall of colour panels, and a large screen to display their vehicles. There's no car in the space at all. Going in, it's fair to say the experience won't feel anything like a traditional appointment at a dealership.
Hyundai
Luxury brands aren't the only ones who are setting up these "virtual" showrooms. Hyundai has started as well. They've introduced a few stores that feature walls of coloured displays, touch-screens, and a car or two within the space. Again, the focus here is on the digital experience that drivers now crave.
Reasons Why it's the New Norm
So what's up with the obsession of dealerships having no cars? Are they getting stingy with the cost of their inventory? To a degree. Are they just trying to look cool? Sorta. Are they trying to appeal to customers in broader ways? Certainly. Think of how you shop nowadays. Just about everything you buy starts with an online search and the reading of reviews. In fact, it's safe to say that most of the shopping experience happens on a screen of some sort, whether that's a laptop, tablet or smartphone. By the time you go into a store, you've already made your decision. Shopping for a vehicle is heading in that direction, and there are many benefits to come out of buying cars online.
Buy a Ride in Your PJs
Generally speaking, technology has made life a lot more convenient. The same is true for cars. The ability to sit on your couch (or armchair), in your pyjamas, searching for the car of your dreams is a privilege that previous generations could only have dreamt about. But that's not the case anymore. A digitally-focused car shopping experience means fewer visits to a dealership. Additionally, the high-res imagery of vehicles, written descriptions and 3D tours puts the vehicle right in your living room. You're literally bringing the dealership to your home.
Brought to Your Doorstep
The convenience of buying a car online doesn't end once you've bought it. Nowadays, dealerships are shipping out cars to drivers – for you, the means of distance you have to travel is from your living room to your driveway. Again, this is all thanks to the digital revolution that's sweeping through the auto world. Once the driver arrives at your home, you sign the purchase documents, take the keys and shake their hands – the car is yours. Now that doesn't mean going to the dealership is completely outdated. The typical customer will still walk into a store, perhaps requesting a test drive (if the car is available), which is still a good idea. However, doorstep deliveries from dealerships will get more common in the future as more people buy cars online.
Control Like Never Before
Apart from convenience, there's issue of control. You've always had options when it comes to things like adding features in your car, changing colours and interior stylings. The difference now, is that you can choose all of these options with a few clicks of a mouse. In a matter of minutes, you can build a vehicle from scratch in ways that would normally require the help of a salesperson. As mentioned earlier, some of the high-end showrooms, such as the Tesla, Audi and Hyundai stores mentioned above, feature digital displays that allow you to customize your car right then and there.
The Future is Coming Fast…and Furiously
If you've noticed that dealerships are starting to look a lot different lately, you're not witnessing an illusion. You're seeing the future unfold before you. The days of large car lots with rows upon rows of cars, and salesmen turning your attention to each one of them is gone. They've been replaced with downsized yet upscale rooms equipped with high-tech screens and displays. Technology has made the car buying process a more personalized experience that puts you in control, while removing hassles. And if you're a stickler for buying cars without too much stress, the future will be a friendly one for you.