Signs that the HOT Lanes, LRT & TTC Subway Extensions Are Coming Soon
Posted by
Auto Loan Solutions
What's going on with the GTA transit system and infrastructure changes? Seriously? You probably haven't heard much about them recently, especially with all the other news headlines taking precedence, such as the attacks in Brussels, the passing of former Toronto Mayor, Rob Ford, and the Marco Muzzo trial. So we're here to update you. The extension of the TTC subway lines, installation of LRT and the addition of HOT lanes are still in the making. Whether you're ecstatic or irritated by these developments, you most likely want to know what's going on with our roads and railways. And we've got the details right here.
HOT Lanes Development
Let's begin with those "high-occupancy toll" (HOT) lanes. Currently, they're at the centre of controversy since many people see them as a waste of taxpayer dollars, and an ineffective means of solving traffic issues. However, the government of Ontario is confident that these lanes will reduce a host of problems by adding in these HOT lanes on other major highways throughout the province.
Goals of HOT Lanes
Generate revenue to fund infrastructure development
When the HOT lanes take effect, there won't be any toll booths installed since drivers will use a permit, or pay electronically by means of a transponder or licence-plate recognition (like they do for the 407).
Coming to a Highway Near You…
QEW: The QEW pilot project will receive HOT lanes this summer. They will run a distance of 16.5 Km, stretching from Trafalgar Road to Guelph line, which happens to have some of the heaviest traffic in Ontario. Drivers with green plates and carpools of 2+ passengers can use the lanes without permits, while single occupants will have the option to buy a permit for HOT use.
427: Highway 427 will also receive HOT lanes, but at a much later start date of 2021. They will span a distance of 15.5 Km, running from the south of Highway 409 up north past Rutherford Road. These lanes will rely on an electronic system, where route fees for each driver will be determined by the use of a transponder or license-plate recognition (such as what's currently used for the 407).
Other Details: As it stands, the government will introduce just 1,000 permits for the QEW pilot project, as a means of testing the demand for HOT lane use. They will only be visible to law enforcement. Also, there's no need to worry about the loss of general purpose lanes – only HOV lanes will be converted into HOT lanes.
TTC Subway Extension
Next up is the TTC subway extension. It seems like we've been hearing about this expansion for ages now, never sure how it's going to turn out. And after the cancellation of the Eglinton West line in 1995, it's hard to know if the city will keep its promises. But the government is making progress from what we can see. If you are a regular or occasional TTC rider, you will see some major changes in the near future.
Spadina subway extension
The main highlight of the TTC subway extension, is the addition of stops after Downsview Station up to Vaughan Metropolitan Centre (which will be a subway stop itself). The project is 85% complete, and testing will commence in April 2017. The original budget for the construction was set at $2.6 billion, but that has since increased to $3.2 billion. TTC CEO, Andy Byford, expressed his enthusiasm for the expansion stating, "At the end of 2017, when this railway opens, it will be spectacular."
A Look at the Line Extension
The Spadina extension will add six new stops, servicing portions of North Toronto and York Region. Here's a look at the map below: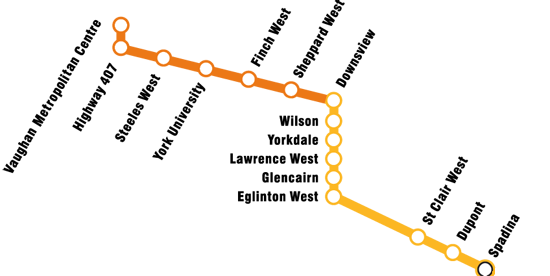 The physical appearance of the extension looks quite spectacular as well. Now that the project is nearing completion, more photos of the underground work continue to surface (excuse the pun). Have a look at what's taking place:
York University Subway Station
Progress by Each Stop
The construction of the six subway stops are progressing steadily as well as the tunnels and tracks. A recently released newsletter from the TTC details all of the extension. Some of this info includes the status of the subway station availability. Take a look at where they stand.
Spadina Subway Status (as of February 29, 2016)
Downsview Park Station – 87%
Pioneer Village Station – 85%
Vaughan Metropolitan Centre Station – 83%
Highway 407 Station – 79%
York University Station – 63%
LRT Expansion
Finally, there's the LRT installation – the ongoing transit plan that leaves all of us confused as to whether it's happening or not. In the past, artist renditions and maps of the speculative LRT system hit the net (as well as the subway), giving us an idea of what Metrolinx (LRT's owner) has planned. However, the project has been shrouded in tons of rumours, giving rise to confusion as to what's actually going on. But there confirmations regarding the project, and they're signs of the LRT's progress.
Confirmed LRT Lines
Sheppard East LRT – This 13 kilometer line will run from Sheppard Avenue to Don Mills subway station, with 26 planned stops. The original in-service date was 2013, but that has since been pushed back to 2024.
LRT vs Buses, Streetcars & Subway
In similar vein to the addition of HOT lanes, there's quite a bit of apprehension regarding the installation of LRT routes along major roadways in the GTA. So far, the project has reached a $8.1 billion funding total through Metrolinx, which includes the cost of public consultation, design and construction costs. A significant number of people have doubts about the LRT's effectiveness, believing they won't add much more value beyond what current buses, subway trains and streetcars already offer. But the light rail cars will differ from other transit vehicles.
LRT differences
LRT cars will travel faster and carry more people than buses and streetcars
Running in their own lane, they won't affect automotive traffic
They will be more accessible for wheelchairs, strollers and shopping carts since passengers can board them at ground level
Just as there are photos of the Spadina subway extension, there are quite a few pics showing the construction of the LRT lines. Here are a few below:
Eglinton Crosstown Dig Site
They're on the Move
We all know that news comes and goes – it's part of the cycle. Unless you have closely followed these developments by reading online articles or newsletters, updates surrounding the HOT lanes, TTC subway extension and LRT may have fallen off your radar. But Metrolinx, the TTC, the government of Ontario and the numerous organizations involved with these infrastructure and transit changes are making progress. So stay tuned. In the following months and years, you'll see more in the news about these additions as well as physical signs out on the road.