The Best Car Movies & Shows to Watch Before the Holidays Are Gone
Posted by
Auto Loan Solutions
The Holidays are coming to an end. In a matter of days, you'll have to put the suit and tie on, and head into work to clock in the usual 8-hour shift. Thinking about rush hour traffic alone is a buzz-kill. So why not turn the idea of driving into something more riveting and memorable? If you still have days off, you owe it to yourself to end it off on a high note. There's a ton of movies and T.V. shows out there where the cars are the stars, and you'll have a blast watching them. So get the popcorn ready and turn your phone off.
The Big Screen
Let's start with the big screen. Of course, the car movies we're talking about aren't on the big screen anymore, although most of you have pretty big screen TVs now. With that said, these flicks are screaming for your attention if you have not yet watched them.
Mad Max: Fury Road (2015)
After years of delays (a.k.a as "Developmental Hell" in the film industry), the fourth installment of the Mad Max series hit
theatres in May 2015. It follows the story of Max Rockatansky (portrayed by Tom Hardy) navigating through the desert wasteland that is now Earth, following a nuclear holocaust. Identified as a universal blood donor, he's captured for transfusion purpose, but then escapes and joins forces with Imperator Furiosa (portrayed by Charlize Theron). Mad Max has everything you want from blockbuster – stunning action sequences, breathtaking visuals/effects, gripping storytelling and compelling characters. If you're not doing anything this evening or weekend, make it a Mad Max night.
Drive (2011)
For the ladies, the mere mention of Ryan Gosling is enough to grab attention. Well, he's the star of the 2011 crime drama based on the novel of the same name, by author James Sallis. The story revolves around an unnamed Hollywood stunt driver (played by Ryan Gosling), who moonlights as a getaway driver. Drive isn't your typical crime movie, falling into the more indie category of neo-noir and arthouse (the more artsy, experimental films). Yet still, it was one of the most acclaimed films of 2011, garnering praise for its imagery, action and style. Aside from its star, Ryan Gosling, the film features an ensemble cast including the likes of Bryan Cranston and Christina Hendricks.
Any James Bond Flick (1962 – 2015)
You've seen at least one or two Bond films (that in itself is an insult to some of you), but a lot of you haven't seen the entire
series. Sure, 007 is more than just car chases, but they make an integral part of the Bond movies so fun to watch, and you'll find these chases in about all of them. From the earliest flicks, such as "Dr. No" and "From Russia With Love" to the more recent installments, "Skyfall" and "Spectre", you'll see plenty of high-octane car chases. But the most captivating aspect of these scenes is not the action, but the cars themselves. Aston Martins, Audis, Bentleys, Jaguars, Land Rovers and a whole bunch of other luxury rides make appearances in the films. After watching a couple Bond films, you might just want to go for a test drive.
Also See
The Italian Job (1969, 2003)
Fast and the Furious Series (2000 – 2015)
Gone in 60 Seconds (2000)
The Silver Screen
There was a time when the creators of T.V. dramas treated cars like actual characters. It's not so common anymore. However, the legacy of such car shows continue to live on, and they're still available on streaming websites, and in DVD/Blu-Ray box sets. And if these series aren't your thing, you can always watch some documentary/reality series to fuel your desire to see cars on screen.
Knight Rider (1982 – 1986)
You saw this one coming. Knight Rider is the quintessential example of a T.V. show where a car is a "being" (a mechanical one at that). The series revolved around the car named KITT, an artificially intelligent vehicle, that is super-durable and virtually indestructible. It's human companion (and driver), Michael Knight (portrayed by David Hasselhoff) fight crime together. Looking at it now, the series may seem a bit cheesy (it was made in the 80s after all), but it's filled with plenty of entertaining moments. Also, with all the talk of driverless cars hitting the road soon, you might have a greater appreciation for Knight Rider. It's safe to say that the show was prophetic.
Canada's Worst Driver – (2011 – present)
The sight of a bad driver on T.V. is a grim reminder that you may encounter them in real life. But it can be a source of laughs
and amusement. Fortunately, Canada's Worst Driver makes poor driving skills quite entertaining to watch, and it's worth watching if you're having a "down" or stressful day. Just about every mistake in the book happens on this show – knocking over pylons, confusing brakes with pedals, speeding when one should slow down, and more. At the very least, Canada's Worst Driver could be an educational tool for anyone in your family who's learning how to drive, teaching them everything they should NOT do.
Top Gear (UK) (2002 – present)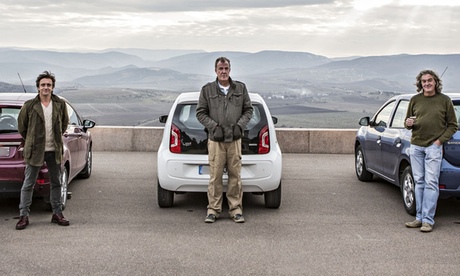 Many of you are familiar with Top Gear, and some of you may have been around from its beginning. The show originally started as a motoring magazine-style program in 1977, but was then revamped in 2002. Since then, the UK based series, presented by Jeremy Clarkson, has won numerous awards and spawned several spin-offs for different countries, including the United States, Australia, Russia, and Korea. Top Gear features a series of segments that display races, driving challenges, car reviews and celebrities in non-luxury cars. If you're a car enthusiast or just love seeing awesome car stunts, then Top Gear will keep you entertained as much as any car movie or T.V. drama will.
Honourable mentions
Starsky & Hutch (1975 – 1979)
Overhaulin' (2004 – 2015)
Don't Drive Here (2013 – 2015)
Fifth Gear (2002 – present)
A Good Ending
Yes, the holidays are coming to end, and we'll soon find ourselves in the normal swing of things. However, you can bring them to an end in an entertaining way. If you find yourself feeling blue over the thought of returning to school or work, the car movies and T.V. series listed above will bring some excitement over the coming days. Whether it's a summer blockbuster or a top-rated reality series, you can bring your holidays to a close on a positive note.