What Does the Plummeting Canadian Dollar Mean for You?
Posted by
Auto Loan Solutions
As the volatility of oil and gas prices continues to provide varied advantages, and disadvantages, for the average Canadian consumer, the Canadian dollar has followed suit, seeing its lowest value at 78.22 cents (U.S.) in 2015, considerably lower than the high of 94.15 cents it experienced last year.
Plummeting Oil Prices = Low Canadian Dollar
Today, this fluctuation continued, reports The Globe & Mail, with the dollar down again – currently standing at 80.17 cents – just as Statistics Canada reported that over 35,000 jobs were created during the month of January, considerably higher than the 4,500 economists originally predicted. Even though these gains were a result of more part-time positions, the unemployment rate still managed to decline by 0.1 percentage points, now at 6.6 percent.
It is important to note, though, that full time jobs actually declined by 12,000 in January, while part-time jobs surged by a whopping 47,000 as the Canadian job market continues to evolve. "Canada's job numbers were good, but not quite as good as they looked at first glance, given a tilt to part-time and self-employed positions," said Avery Shenfeld, chief economist at CIBC World Markets.
In the U.S., on the other hand, some 257,000 jobs were created in January, with the unemployment rate inching up to 5.7 %.
Most experts attribute the low Canadian dollar to the plummeting price of oil, which carries much weight in the Canadian economy. In fact, many believe that the loonie will sink to as low as 71 cents in the coming weeks. But this is not only due to oil – there are several factors in play here.
You'll recall that at the end of last month, the Bank of Canada pulled a big surprise move by cutting its key interest rate from 1% to 0.75%, a move Governor Stephen Poloz called an "insurance policy" in the wake of "unambiguously negative" lowering oil prices, Canada's largest export. The move, a bid to accelerate business activity, will provide consumers with lower interest rates on mortgage and auto loans, etc.
Furthermore, many believe that Poloz has one more trick up his sleeve, with experts claiming that the benchmark rate will go down to 0.5 percent within months. Some even believe it'll hit .25 percent by the end of the year. According to David Watt, chief Canadian economist at HSBC, the "Canadian economy is going to be vulnerable through the first half of this year."
How Will This Affect the Average Canadian?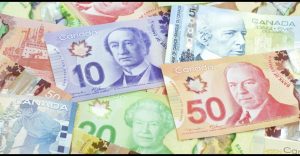 The lowering Canadian dollar will directly, and indirectly, affect all Canadian residents, though there are both disadvantages and advantages – if you get paid in American dollars, count your lucky stars.
Pros:
Canadians who have investments in American businesses held in U.S. currency can cash in thanks to the low Canadian dollar
The fact that the dollar is 20% lower provides incentive for companies to do business in Canada as opposed to the U.S, making Canada a more affordable alternative
Cons:
Spending money on U.S.-imported items is now 20% pricier
If your vacationing in the U.S., your trip will run you 20% more than you may have anticipated
Buying supplies from the U.S. will also prove to be difficult, unless your customers are partial to paying more money than they're used to, which is doubtful
Some Canadian companies may be run out of business, which means employees will find themselves out of a job
What Should I Do?
With both cheap gas prices and low interest rates evocative of the plummeting Canadian dollar, now can be one of the most crucial periods for you to save money wherever you can. In a previous post, we calculated how you can turn cheap gas into $100 worth off of savings every month. Looking at the Bank of Canada's lowering of its key interest rate, financial expert Mike Moffatt, an assistant professor of business, economics and public policy at the Ivey Business School at Western University, confirmed that these rates can "certainly help you" afford a mortgage or auto loan, that is if you're out of debt and your credit is in good standing.
If it's not, however, now is an especially useful time to take advantage of these rates and pay off your debt, and re-establish your credit. With the future of the Canadian economy uncertain, and with the consequences of the low dollar unpredictable, experts are urging Canadians across the country to SAVE as much as they can. Set up an emergency fund, keep putting money into your savings, and be frugal with your cost of living expenses whenever you can.
If you've found yourself with poor credit, make sure you're paying your bills responsibly, and on time. If your worried because you need to take out an auto loan in order to buy a car, you should know that taking a loan is actually useful to you, as it's the first step in strengthening your credit score, and proving to lenders that you can be trusted.
If you're in need of a loan, contact Auto Loan Solutions today. Even if you've experienced a bankruptcy or have bad credit, we can still have you pre-approved for a loan that's right for your financial needs, and out on the road in your new car within 48 hours.
Don't allow yourself to be blase about your finances because gas is cheap and you were able to get a loan with lower interest rates thanks to our specialists here at Auto Loan Solutions – make sure that you continue to adapt good money-saving habits!
Playing it safe is always better than being sorry you didn't take advantage.