11 Weird Questions About Driving a Car on Quora – Answered
Posted by
Auto Loan Solutions
Applying the motto "you'll never know unless you ask" can lead to plenty of enlightenment in life. However, it can also bring a lot of embarrassment. The latter is true for a few individuals who asked some peculiar questions about driving a car on Quora.
In all fairness, we know where some of these questions are coming from. But when read at first, they might leave you scratching your head, or wondering if the people asking them are smarter than a 4th grader.
1. "Should I wear a seatbelt while driving?"
If the person asked, "Why should I bother wearing a seatbelt?", we'd have no qualms with that question. After all, we can always challenge the efficacy of something (even if they are safety devices). But to ask whether you should wear a seatbelt is like asking, "Should I get to work on time?". You know the answer, and what can happen if you don't.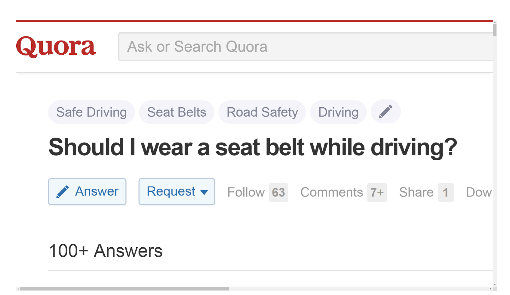 2. "You're stopped at a light behind a police car. The light turns green, but the police car doesn't move. Should you honk? If so, after how long?"
Here's the deal with this inquiry: it's actually a smart question. After all, a cop should follow the rules too. And yes, it is apparently okay to honk, as long as you're not overdoing it. What makes it strange though, is the apparent length of time the driver is willing to wait for the cop to move, when he or she can just change lanes and drive away. After all, the world is a three dimensional place.
3. "Why do dogs pee on tyres?"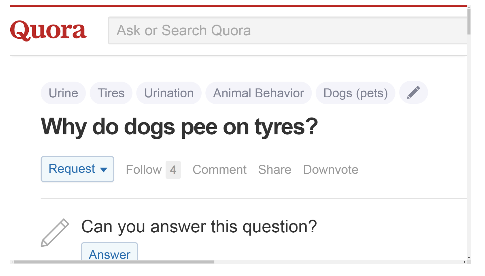 Maybe some dogs can't "hold it" too long, and a car's tires just happened to be in the way. It's like being on the road with no gas station in sight, forcing a person to pull over and make their way to the bushes where some poor tree becomes the target of their waste. Or maybe the dog's owner forgot to walk him, and that was his way of payback.
4. "If a car's maximum speed is 160mph, can it reverse at 160mph?"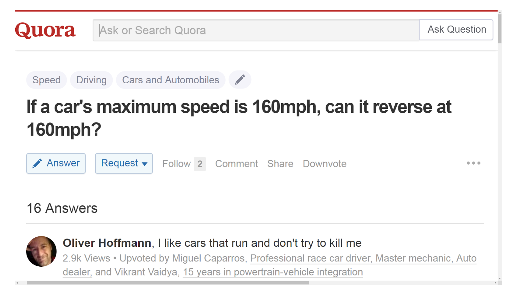 In theory, yes, (although the driver would most likely lose stability). Then again, we can't think of a single scenario where someone needs to reverse so fast. Even in a police chase, where suspects need to reverse, they'd most likely do so only to change directions and drive forward again. Just watch "Cops".
5. "Can a car escape a strafing run from an attack helicopter?"
The broad answer is "possibly". But an even better solution to surviving a helicopter attack is to take cover, rather than flee in a car – unless it's bulletproof like the presidential Cadillac. The chances of escaping in one piece would most likely increase, if a person were to hide somewhere out of the helicopter's sight.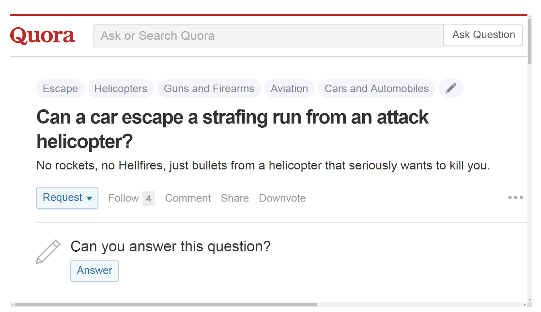 6. "Can you drive safely after 3 martinis?"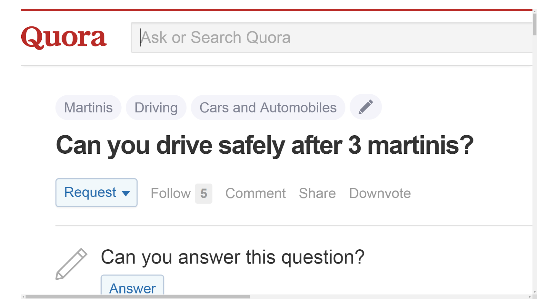 Did the asker chug them? How much do they weigh? Are they James Bond who can apparently jump in a ridiculously-priced dream car right after sipping a few? Realistically speaking, anyone who plans to have "a few" martinis better have a designated driver on hand.
7. "How effective is rolling down your windows to slow down your car?"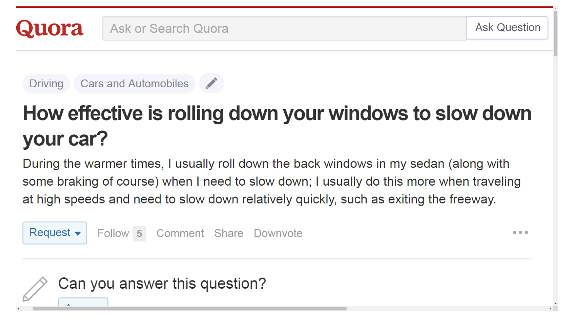 Ha! We love this one. Maybe if the occupants were somehow tossing heavy car components out the window, it could happen. Look at it this way, however – if a car would decelerate simply by rolling the windows down, it would most likely mean that its designers and engineers created a very, very flawed product.
8. "How many people would it take to move a car by blowing on to it?"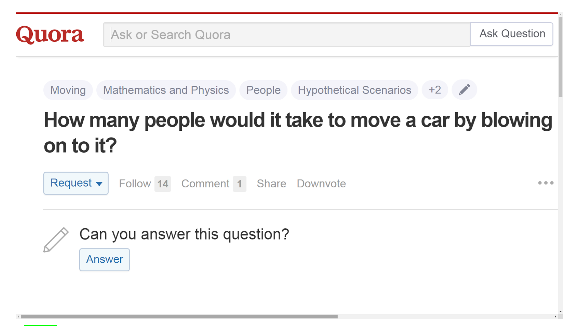 Depends on who's doing it. The closest human candidates would be individuals with massive lung capacities, such as opera singers and Olympic athletes. But they'd probably just fog the windows up. There is a Marvel character out there named Awesome Android, and one of his abilities is emitting gale-force wind blasts from his breath. Maybe he can get his own movie where he runs through traffic, blowing cars away to escape his enemies?
9. "What percentage of typical car fuel comes from fossilized dinosaurs?"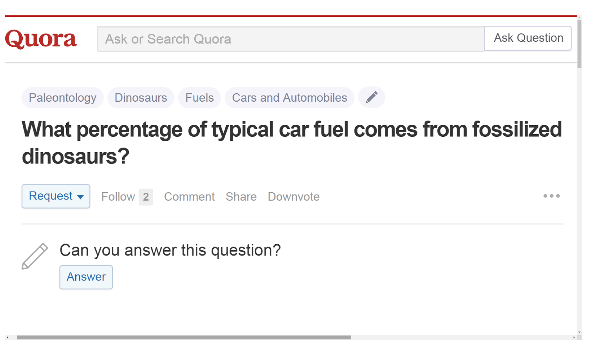 This is a myth. People associate "fossil" with dinosaur remains, but the fuels are from the remains of oceanic microorganisms that died off a long, long time ago. So trying to find the quantity of liquefied T-Rex oozing out of the pump would likely yield an amount of zero.
10. "I love to sniff gasoline every time I fill up my tank (twice a month). Can that cause cancer? How do I resist the urge?"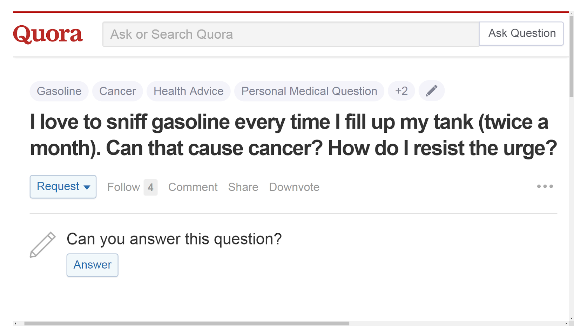 We hope whoever asked this gets help. It seems ridiculous, but we did our research on this, and it turns out that sniffing gasoline is a real addiction since the fumes can lead to intoxication.We're not counsellors here, but maybe this individual should enroll in a 12-Steps or AA program.
11. "Why are car tires round and not, say, square?"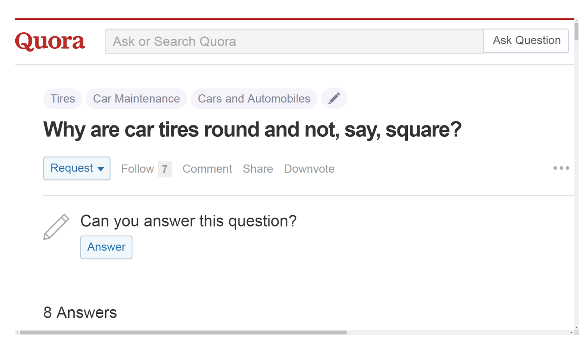 Physics. Someone obviously didn't pay attention in science class, or has just time-travelled to the future from an ancient civilization where the wheel was not yet introduced. For them we recommend this exercise: try rolling a brick downhill one day and watch what happens.
Someone Has to Ask
Unless you're a car junkie, questions about driving a car will always arise. Some might be silly, but that's okay. Of course, you can always ask a mechanic at the shop or dealer, where you won't run the risk of having your inquiry displayed to the world. But then again, millions of people will remain in the dark if someone doesn't make these questions public. So maybe you should ask anyway – someone will take the time to answer.