6 Leadership Styles: What is the Impact on Company Culture, Organization, and Performance?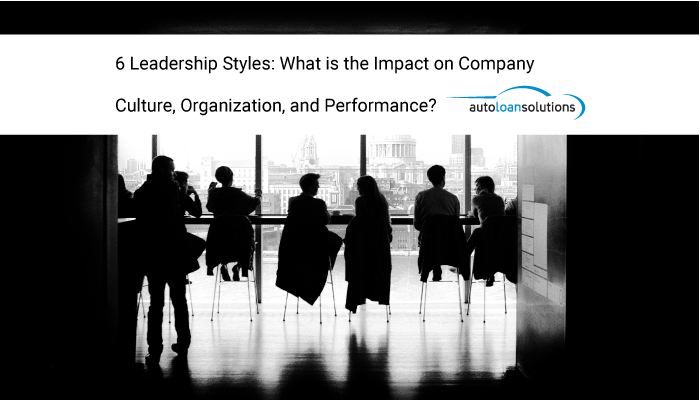 A leader's only job is to get results. How a leader leads, or their 'leadership style,' affects everyone from senior management to the newest intern. It doesn't matter if a business is small or a large global conglomerate, the leadership style creates the corporate culture that influences the organization and its performance.
Daniel Goleman, Richard Boyatzis, and Annie McKee described six distinct emotional leadership styles in their 2002 book, "Primal Leadership". Research for the book was collected from Goleman's earlier work Six Leadership Styles which was published by the Harvard Business Review in 2000.
Visionary

This leadership style inspires a team to move toward a common goal. It leaves details to the team members. "Visionary leaders articulate where a group is going, but not how it will get there—setting people free to innovate, experiment, take calculated risks," writes Goleman & co.

You need to be careful however as this style is less effective when you're working with a team more experienced than you are. It can even become overbearing if it's used too often.

Coaching

This style is more people-centric than the first. Its focus is on developing individuals, investing in them in such a way that their personal goals connect with the organization's goals.

Coaching works best Goleman writes, "with employees who show initiative and want more professional development." This style involves having in-depth conversations with employees on their long-term life goals and how these connect with the organization's mission.

Care needs to be taken however as, "it can backfire if it's perceived as "micromanaging" an employee, and undermines his or her self-confidence," Golemen writes.

Affiliative

If it's harmony that your team needs then this is the style of management that is needed. This style emphasizes the importance of teamwork. It removes the barriers employees have with each other and connects them to one another.

It is important that this style is not used alone. Goleman warns, "its emphasis on group praise can allow poor performance to go uncorrected. Employees may perceive that mediocrity is tolerated."

Democratic

This style is most effective when your team is more experienced than you are, and the direction the organization should take is unclear. It draws on your team's knowledge, skills, and experience, directing those resources towards a group commitment to the resulting goals.

There is a caveat. Because of the slower decision-making process that comes from consensus through participation, this approach can be disastrous when urgent events demand quick decisions such as in times of crisis.

Pacesetting

A pacesetter leader expects excellence and self-direction from their team. A high bar for performance is set and the leader is "obsessive about things better and faster, and asks the same of everyone."

If this sounds like the management environment at your company, or that you frequently use, be careful. If used too frequently, this style can actually hurt your team as it can undermine morale and make people feel as if they are failing. "Our data show that, more often than not, pacesetting poisons the climate," warns Goleman & co.

Commanding

This is the style most often associated with the overbearing boss trope seen in many shows and movies. It frequently involves criticism with praise being rare. It's also the style of leadership most often used, but the least effective as it regularly negatively impacts morale and job satisfaction.

However, it does have its place. During a crisis, when an urgent turnaround is needed, this style of leadership can be an effective way to make things happen for a quicker and more
decisive resolution.
Conclusion
Goleman & co. may favour certain leadership styles for different circumstances, but they are also very clear about one thing—there is no one-size-fits-all for leadership style. Different styles work at different times and different situations. In implementing your own style or in hiring managers for your business, it helps to understand the effects of each style on teamwork.