Plugged-In: Where Are Canada's Electric Car Charging Stations?
Posted by
Auto Loan Solutions
on
August 31, 2015 @16:25:27 EDT
Electric vehicles are hitting the roads in droves. Perhaps, you know a neighbour or relative who has one, and if you are 
concerned about the environment and fuel economy, owning an EV (or even a hybrid car) might seem like the best choice for you. But if you're like many who are considering this option, there's probably something on your mind – where do you charge? It's not the same as driving your gasoline-dependant car. Fortunately, as a resident of Canada, you'll be happy to know that more electric charging stations are now available to you, and the number is about to increase. You don't have to search as far as you think.
EV Nightmares – Few charging stations
One of the biggest reasons why some people won't buy an electric car is due to a limited infrastructure. In other words, they assume there are not enough charging stations out there. And in some ways, they're right. No matter where you live, you
could drive around for an hour or two and see a dozen or more gas stations. You could drive for double the time, and probably only see one charging station – maybe two if it's a good day. You're probably among the majority of people who are concerned about running out of fuel (or better said, voltage) because you couldn't find a place to charge your car. However, the number of electric vehicles on the road isn't high enough to have so many charging stations in place. But that's starting to change.
More are popping up
According to a Globe and Mail article written last November, it was reported that Sun Country Highway would install about 1,000 more charging stations for electric cars. This would continue until the end of 2015. The purpose of the mass installation was to make it easier for drivers with range-limited cars (such as the Nissan Leaf) to drive through the country at a low cost. Ikea is also helping out too. There are 12 Canadian locations, that will go beyond the selling of the cabinets and tables, by offering free charging stations to EV owners.  Even GO Transit and Rona have jumped onboard as well. So the beauty of it all, is that more companies are taking electric cars seriously, and widening the infrastructure to meet the demand.
Batteries are lasting longer
Here's the other aspect of EVs that are improving – their batteries. Currently, the drivers of many electric cars suffer from what's known as "range anxiety", a state of mind they enter when their battery is running low, and to make it worse, there are no charging stations around. Although some areas genuinely don't have enough charging stations (which will change), a problem is that some cars have limited battery power. They die out too quickly. Some of these cars only last about 50 – 60 kilometers. Fortunately, as the technology improves, there are various electric vehicles which offer a much wider range. The Tesla Model S is one example of such an improvement – behind its sleek design is a powerful battery that provides drivers with a range of up to 480 kilometers. So if you're unsure about getting an EV, it's worth noting that things are getting better.
Where You'll Find the Most  Charging Stations
Now it's worth taking a look at where the charging stations in Canada are all located. As we stated earlier, there are more than you think. There is room for improvement, but the network in Canada has grown significantly, and it's certainly evident in the country's major cities. Here are some examples:
Toronto
Royal Bank Plaza, North Tower, 200 Bay St.
Sheraton Hotel, 123 Queen Street West
Brookfield Place, 181 Bay Street
Montreal
McGill University Main Campus, 2500 University Boulevard
Fairmont Le Reine Elizabeth, 900 Renè-Levesque Ouest
Centre de Commerce, 747 Rue Square-Victoria
Vancouver
Pacific Centre Parkdale, 701 West Georgia Street
Commerce Place, 400 Burrard Street
Vancouver Main Post Office, 333 Dunsmuir Street
Calgary
Centennial Place Devon Tower, 520-3rd Avenue South West
Stadium Nissan, 2420 Crowchild Trail North West
University of Calgary, 32 32nd Avenue North West
Edmonton
Coast Edmonton Plaza Hotel, 10155 105 Street North West
Saint Albert Business Centre, 29 Sir Winston Churchill Avenue
Edmonton Remand Centre, 18591 127th Street Northwest
These five cities actually have many more locations (dozens) for charging electric cars. In fact, a quick search using the CAA website will yield plenty of results.
What to Do if You Don't Live Near a Charging Station
If you don't live in an area that has charging stations nearby, you'll want give the purchase of an electric car some extra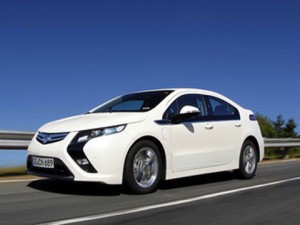 thought. It doesn't make sense to own a vehicle that will be hard to refuel. You would be better off with a fuel efficient alternative, such as a hybrid car, which makes use of regular gas but also relies on battery power where applicable (such as, when stopped at a red light). The network for charging stations is rapidly improving, but it will take some time before they're available to all people, both urbanites and rural residents.
Finding an Outlet Will Get Easier
It's true that you won't find as many charging stations as you would Petro Canada locations. But that doesn't mean they're not around. And now that more people are deciding to drive electric vehicles, you can expect to see more hitting a street near you. With that said, you should take a few things into consideration. Hold off on buying an EV if you live in an extremely remote location, so that it doesn't turn into an inconvenience. You should keep this thought in mind, if you venture far out of the city into remote areas for extended periods of time. Of course, if you have these predicaments but still want a vehicle with electric capabilities, you can always buy a hybrid.